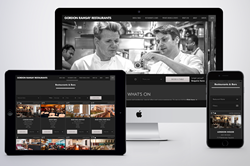 The website is a powerful platform to showcase both the Gordon Ramsay brand and those of the Group's stable of restaurants
London, UK (PRWEB UK) 20 October 2015
Forming the cornerstone of a new digital roadmap designed to support Gordon Ramsay Group's global expansion plans, the website is a powerful platform to showcase both the Gordon Ramsay brand and those of the Group's stable of restaurants, now spread across the UK, France, Italy, the United States and Asia.
Complete with a contemporary redesign, enhanced user journeys and intuitive booking system, the new website provides an optimised customer experience devised using insights gleaned from the latest booking trends, mobile browsing experiences and changing consumer consumption behaviours.
The website has been designed to house the restaurant brands on a common booking engine and e-commerce platform, while still giving each restaurant the room to thrive independently by developing its own online brand presence and social fanbase.
A new strategy of adopting a user-focused approach supplemented by more effectively targeted content and social media marketing has already seen each restaurant grab a greater share of the search space.
Restaurant experiences and gift vouchers have also received greater prominence in search results thanks to the more simplified and streamlined ecommerce experience put in place. These amazing experiences include chef masterclasses and the Kitchen Table experience, where guests can enjoy a slap-up meal overlooking the theatre of a busy Michelin kitchen.
Visit the new website for yourself at gordonramsayrestaurants.com and keep watching as the Gordon Ramsay Group expand their digital ecosystem aggressively in the next 12 months to further grow market share in the highly competitive global restaurant sector.