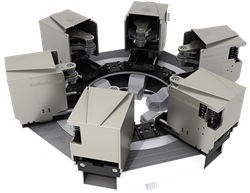 "For each joint in the riser, the Robo-Spider can reduce the bolting time by up to six minutes, which equates to saving 600 minutes per pull or run for a string of 100 joints." -- Ben Lasher, Torq/Lite.
Houston, Texas (PRWEB) October 20, 2015
Torq/Lite, a Houston-based company that specializes in precision hydraulic torque wrenches and other specialty bolting tools, recently announced its newest product, Robo-Spider, an automatic riser bolt torquing system for use on offshore drilling rig risers.
Unlike manual riser tools that operate on a single bolt at a time, the Robo-Spider is designed to apply precise amounts of torque to each riser flange bolt simultaneously, simplifying and accelerating the make-up or assembly of riser sections, and reducing the risk of injury to crew members from heavy manual torque wrenches. During disassembly or break-out of riser sections, the Robo-Spider loosens the riser flange bolts just as quickly, reducing rig down-time and operating costs.
The Robo-Spider can supply up to 36,000 ft./lbs. of torque to each bolt within a 3 percent margin of error, which ensures that the connection is strong and safe. Each of the six bolting units operates independently of the others, while still producing an accurate pre-load torque setting. With the exclusive journaling feature, torque settings can be recorded for each run or pull and referenced at later date, if verification is needed in the future.
The Robo-Spider supplies accurate and repeatable torquing that is extremely labor intensive--and in some cases, impossible--to achieve with manual hydraulic wrenches. The system also allows crew members to remain at a safe distance, virtually eliminating the chances of injury while running or pulling riser sections.
Although the Robo-Spider is a brand-new product, it is based on proven Torq/Lite RT-Series Riser Tool technology that has been in use in the offshore oil industry since 1996. It features a convenient touch-screen control panel that is very easy to use, and it keeps the operator safely away from the work area. The Robo-Spider is unaffected by rough seas or inclement weather, which allows it to keep operating in conditions that would prove extremely dangerous for manual bolting crews.
"For each joint in the riser, the Robo-Spider can reduce the bolting time by up to six minutes, which equates to saving 600 minutes per pull or run for a string of 100 joints," said Ben Lasher of Torq/Lite. "Over the course of a year, this could add up to over 60 hours saved, and depending on varying operating costs, a substantial amount of money saved. When that figure is paired with the benefits of less down-time due to injuries or inclement weather, the potential return on investment on the Robo-Spider gets even larger."
In June 2014, Torq/Lite's Robo-Spider was installed aboard the Sevan Louisiana in the Gulf of Mexico on a trial basis, and it has since proven its worth in the field admirably.
To learn more about the Robo-Spider and how it can improve riser bolting operations, visit http://www.torqlite.com. A demonstration of the Robo-Spider at Torq/Lite headquarters in Houston can be scheduled by emailing blasher(at)torqlite(dot)com.
About Torq/Lite
Torq/Lite is a family-owned business based in Houston that specializes in hydraulic torque wrenches and other tools for the bolting industry. The company has been in operation since 1981, and its tools are designed and manufactured in the United States.
Contact:
Torq/Lite
713-983-7171 or 877-777-4046
info(at)torqlite(dot)com