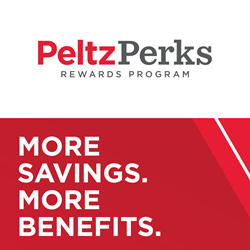 The program allows customers to earn 4% back on every purchase made
Clearwater, FL (PRWEB) October 20, 2015
Since the launch of the Peltz Perks program in March 2014, Peltz Shoes has seen a lot of customer engagement. Customers have positively responded to the program, with currently 48% of their customers participating in the program. However, Peltz realized that there were some areas for improvement in the program that could make the customer experience even better. On October 1st 2015, the new Peltz Perks policy was modified to make it even simpler for customers to enjoy their rewards.
In an effort to better serve their customers in-store, Peltz decided to change the conversion method for Perks Certificates. Instead of having an open balance that can be converted at any time, which caused confusion when the customers were at the register, the new program automatically converts the balance every three months (first day of the month in: January, April, July, October). The Peltz Perks are then automatically deducted from member's account and the new earning period starts. Customers are now able to shop in-store knowing that they will have a certificate available towards their next purchase every three months.
For those that don't know, Peltz Perks is a rewards program that was developed so Peltz Shoes could show its customers just how much they appreciate their loyalty. The program allows customers to earn 4% back on every purchase made in-store, or online at http://www.PeltzShoes.com. As a member of Peltz Perks, each purchase earns 4% back that will be automatically applied to the account balance based on the email address. In addition to the balance earned on purchases, customers will also receive a birthday certificate each year, as well as email notices of promotions and events to keep up with what's happening at Peltz Shoes.
Want to learn more about Peltz Perks? Go to http://www.PeltzShoes.com/peltz-perks for more details and to join today!
About Peltz Shoes
Peltz Shoes is a multichannel merchant of high quality, styled and comfort-oriented footwear at a fair price. In 1957, the first Peltz Shoes location opened in St. Petersburg, FL, and they have been providing customers with "A Perfect Fit" every time by providing sizes, service, savings and selection. Peltz Shoes carries products from more than 150 top brands including Clarks, Sperry, Merrell, New Balance, Asics, Rockport, Ecco, Dockers, Naot, La Plume, Bernie Mev, Bostonian, BOC and more.
The modern 9,000 to 15,500 square-foot retail stores, together with a new distribution center, house over 300,000 pairs of shoes. The quality of the products and the knowledge of the staff are the reason that Peltz Shoes is the number one shoe store in Pinellas County since 1957. Peltz Shoes has retail locations in St. Petersburg, Clearwater, Brandon, Bradenton, Sarasota, Ft. Myers Florida, and online at http://www.PeltzShoes.com