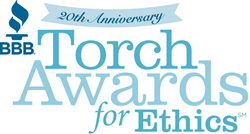 This year, as we celebrate 20 years of trust-building with our BBB's Torch Awards, we also focus on the future and the needs of consumers and business as we continue to develop programs to advance trust and help the marketplace flourish
Columbus, Oho (PRWEB) October 20, 2015
Better Business Bureau Center for Character Ethics today celebrated the 20th annual Torch Awards for Ethics. The milestone event honored this year's recipients at the Torch Awards Gala Luncheon, held at the Ohio State University, Ohio Union.
For 20 years, Better Business Bureau serving Central Ohio has presented the Torch Awards for Ethics to elevate and celebrate commitment to the highest standards of leadership character ethics by for-profit and nonprofit enterprises. Established in Central Ohio in 1994, the awards program embody BBB's mission of advancing marketplace trust and have been adopted by more than 55 Better Business Bureaus across the country.
"This year, as we celebrate 20 years of trust-building with our BBB's Torch Awards, we also focus on the future and the needs of consumers and business as we continue to develop programs to advance trust and help the marketplace flourish through the highest standards," said Kip Morse, President and CEO of BBB serving Central Ohio.
Founded in 1994, the national award-winning "educate & recognize" program is the premier public recognition of organizations that intentionally pursue the six Principles of Trust. The program is intended to encourage business and non-profits to follow principles and best practices of the BBB TRUST Framework. The award embodies BBB's mission of advancing marketplace trust.
About BBB
For more than 100 years, Better Business Bureau has been helping people find businesses, brands and charities they can trust. In 2013, people turned to BBB more than 132 million times for BBB Business Reviews on more than 4.5 million businesses and Charity Reports on 11,000 charities, all available for free at bbb.org. BBB Serving Central Ohio was founded in 1921 and serving 21 counties in Ohio, is one of 112 local, independent BBBs across North America.
About BBB Center for Character Ethics
BBB's Center for Character Ethics Is a business-supported, free-enterprise advancing non-profit organization focused on serving business managers & classroom educators with leadership character and organizational ethics strengthening resources. Our mission is to provide character ethics assessment, training and recognition to for-profit and non-profit leaders and to provide k-16 educator-focused character strengthening programs. As a result, we intend to help both producers and consumers flourish in central Ohio.