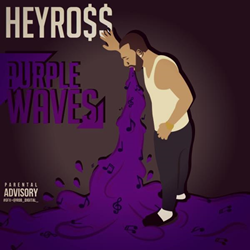 Detroit, Michigan (PRWEB) October 16, 2015
Today Coast 2 Coast Mixtapes announce the release of the "PurpleWaves" by HeyRoss. The Mixtape is currently available for streaming and download at the Coast 2 Coast Mixtapes website.
Heyross is an up and coming artist from Michigan who raps, sings and produces.
The mixtape features 12 tracks, including those below:
01. Top$helf
02. Need More
03. Back Seat Blues
04. Real One (feat. Dave Abrego)
05. Bands (feat. Cash McKenzie)
06. Got It (feat. Young Arias)
07. Rest of the Night
08. Hollywood
09. Blind
10. Ridin (feat. Young Arias)
11. I Want It All
12. Like A Dream
HeyRoss is currently seeking press opportunities, interviews, features, and more.
To download or listen to the new project, HeyRoss - PurpleWaves, please visit the Coast 2 Coast Mixtapes site at http://coast2coastmixtapes.com/mixtapes/mixtapedetail.aspx/heyross-purplewaves.
About HeyRoss: HeyROSS (real name Feras Muheisen) is a rapper from Detroit Mi who raps, sings, and also produces. Heyross had a passion for music at a very young age and naturally would sing or create melodies and rap anywhere he was. Although he had a passion for music the conditions he was living under restricted him from actually doing what he always wanted to do. Living with a single mother and being the oldest of two Heyross had to work at an early age and worry about problems far beyond his years. Heyross first became serious with music in middle school where he used to make beats in his basement. Listening to Nas and Tupac accapellas Heyross would make beats and sample them. As time went on by high school him and his friends would freestyle or sing anywhere, "there would be high school football games where we would make close to a hundred dollars just singing and rapping to girls".
After high school is when Heyross started to get more involved. Him and long time friend kelin would make songs everyday in a mutual friends garage. Over time the sound started to get more original and people started to take notice. Whether it was aggressive rap or a smooth chilling with your lady on a late night vibe Heyross was making the music you needed to hear. In 2014 Heyross got in touch with The SkreamKrew in late 2014 to produce the hit mixtape PurpleWaves and have since been working together ever since. For more info on HeyRoss visit http://www.soundcloud.com/heyross07
About Coast 2 Coast Mixtapes: Coast 2 Coast Mixtapes are the most widely distributed mixtapes in the world, with over 100 million downloads/plays generated by over 300 volumes officially hosted by major artists. Coast 2 Coast has a solid reach in the new music industry with a digital magazine, DJ coalition, industry tips blog, yearly convention, and more. Coast 2 Coast Mixtapes represents a unique opportunity for artists of all urban genres, from major to indie. For more information, visit http://www.coast2coastmixtapes.com.