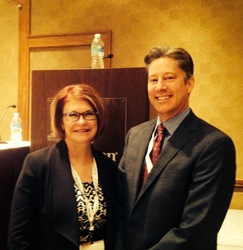 (PRWEB) October 16, 2015
Hamilton Facial Plastic Surgery, one of the top plastic surgery practices in Indiana, said today Debbie Carlisle, patient care coordinator for the practice, was honored earlier this month by being the opening speaker for the Organization of Facial Plastic Surgery Assistants' (OFPSA) annual meeting. Carlisle was given this unique opportunity as part of her new role in serving as the current president of OFPSA.
Carlisle kicked off the conference, which featured a number of industry experts and demonstrations. The conference was held in Dallas, Texas starting on October 1 and concluding on October 3. The theme for this year's conference was "Let's Put Our Best Face Forward: Building Solid Relationships With Our Patients."
Each year the OFPSA conference is held in conjunction with the AAFPRS meeting. This enables OFPSA members a prime opportunity to learn about the newest techniques to improve efficiencies that make the patient experience memorable while their physicians are learning about the latest surgical techniques. During the conference, the Care Credit "Member of the Year Award" was bestowed on this year's winner.
Carlisle has been on Dr. Mark Hamilton's staff since 2007. In her current role, Carlisle's goal is to ensure the comfort of Dr. Hamilton's patients. She accomplishes this by meeting with them during consultations and walking them through each step of the pre and post surgery process. She also assists Dr. Hamilton with in-office procedures including post-op care and suture removal. Before joining Dr. Hamilton's staff, Carlisle's background included experience in both the legal and medical field.
"The most rewarding part of my job is to observe the complete transformation that patients experience before, during, and after their procedures," said Carlisle on Dr. Hamilton's website. "In addition, I love being a part of this transformation. I appreciate the lasting connections I make with every patient."
A sister organization to the American Academy of Facial Plastic and Reconstructive Surgery, OFPSA was founded over 20 years ago and is comprised of such members as nurses, surgery coordinators, practice managers, patient coordinators, billing managers, medical estheticians and other professionals who serve important roles in the office of physicians. The organization strives to keep its members updated and informed on marketing strategies, management issues, current topics and developing technologies that can benefit their offices. More information about the organization can be found at http://www.ofpsa.org.
Double board certified by both the American Board of Otolaryngology and the American Board of Facial Plastic and Reconstructive Surgery, Dr. Hamilton specializes in facial, cosmetic, reconstructive and plastic surgery. He is a Phi Beta Kappa graduate of Indiana University where he received a merit based scholarship and was recognized for his research nationally. Dr. Hamilton is a recognized leader in his field and is a frequent author in medical publications and speaker to his plastic surgery peers. Learn more about Dr. Hamilton and his practice by visiting http://www.hamiltonfps.com.