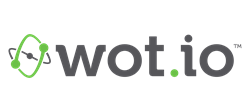 New York (PRWEB) October 19, 2015
wot.io™, the data service exchange™ for connected device platforms, today announced that flowthings.io is the latest Internet of Things (IoT) data service to join the wot.io data service exchange showcase.
flowthings.io enables customers to easily build and scale real-time IoT applications with a set of on-demand capabilities that include event processing, stream access security, and end-to-end data workflow orchestration.
"To maximize opportunities with IoT deployments, every enterprise will need real-time data intelligence that's simple to deploy and manage," said Tom Gilley, Founder and CTO of wot.io. "flowthings.io is well positioned to address this need because their technology enables complex processing of events in real-time data streams, easily programmed and enhanced with visual tools and JavaScript."
flowthings.io orchestrates real-time data workflow to solve challenging IoT problems with speed and agility. The flowthings.io platform offers an in-memory rules engine to process (transform, normalize, redact, route, filter) and enhance incoming data with other data and analytics. The platform supports a range of protocols, including MQTT, HTTP, and WebSockets.
Currently, flowthings.io is focused on a number of vertical markets, including electronics, infrastructure, smart cities, agriculture and energy.
"Next generation data processing for solutions supporting cities, electronics, buildings, insurance, agriculture and energy systems require vastly more sophisticated information management and real-time intelligence than they have traditionally experienced," said Eric Alterman, Co-Founder and CEO of flowthings.io. "We're focused on helping customers and partners deploy solutions for a diversity of markets and see our partnership with wot.io as an efficient way to easily integrate all the capabilities required for specific use cases."
About flowthings.io
flowthings.io offers on-demand event processing and data orchestration platform that empowers any developer or organization to leverage the growing instrumentation of the physical world in order to build real-time IoT solutions that surprise with their intelligence, contextual awareness and effectiveness regarding both operations and end-user experiences.
About wot.io
Founded in 2014, wot.io is the data service exchange for connected device platforms. wot.io enables the enterprise customer to derive value from their data while accelerating time-to-market for Internet of Things (IoT) and Machine to Machine (M2M) implementations. wot.io's data service exchange of best-in-class data services enables customers to focus on building their solution while freeing them from the time consuming effort of making contractual agreements and technically integrating each data service. Through choice, time-to-market and scalability we help our customers to drive ROI and increase revenue with their solution using analytics, business intelligence, data retention, device management, data management, monitoring, visualization, reporting, web API automation and other offerings.
wot.io and its logo, and data service exchange are trademarks of wot.io, inc. All other company or product names, brands, trademarks, and logos are the property of their respective owners. All rights reserved.
###