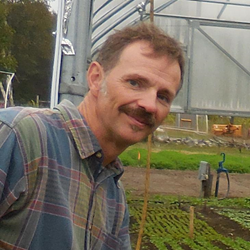 Harry has experience not only in the technical aspects of high tunnel construction and sales, but his agricultural and horticultural background means that he understands the needs and wants of our customers.
Hooksett, N.H. (PRWEB) October 20, 2015
Rimol Greenhouse Systems – an industry leader in greenhouse design and manufacturing – has announced the hiring of Harry Edwards as the company's newest territorial sales manager and technical service representative. Edwards will serve the company's quickly expanding Midwest territory.
Edwards brings a diverse agricultural background to an already robust team of sales specialists spread across the country. His addition makes for a team of six sales managers that now cover New England, New York, Mid-Atlantic, Midwest, Southeast, and West Coast territories.
"Our products are in high demand and we needed to hire another team member to better serve our customer base in the Midwest territory," says Bob Rimol, founder and owner of Rimol Greenhouse Systems. "Harry has experience not only in the technical aspects of high tunnel construction and sales, but his agricultural and horticultural background means that he understands the needs and wants of our customers. His resume made him an easy choice to fill this much-needed position on our team."
Edwards will not only manage all of the company's Midwest sales efforts but he will also offer customer service and consultation advice to Rimol Greenhouse System's customers in that territory.
"Over these past years, I have become increasingly passionate about helping to grow local economies by improving profitability of the customers, who grow and sell locally," says Edwards. "Rimol's products help to extend the growing season of their owners, help them to be more profitable throughout the year as a result, and will help local economies throughout the Midwest that rely on successful, profitable harvests."
After graduating from Penn State, Edwards began his career in industrial production, maintenance, and international sales and logistics. From there, he returned to his more familiar roots of farming, including working as a market farmer, farm manager and consultant, and also as a high tunnel salesman for another company.
Edwards credits his experience growing up on a farm in Lancaster County, PA as the main catalyst that drives his passion for farming today. His past experiences also include an apprenticeship with an Amish farmer where he tended to a 20 acre plot of certified organic vegetables.
"You can't have a four season growing operation in most of the Midwest without a climate-controlled greenhouse," adds Edwards. "I'm thrilled to be working for the company that provides some of the highest-quality, most durable climate-controlled greenhouses and high tunnels in the country. From Alaska to Florida, Rimol provides the exact greenhouse farmers need to have successful harvests year after year and in any climate."
To learn more about Rimol Greenhouse Systems, visit https://www.rimolgreenhouses.com/.
**
About Rimol Greenhouse Systems:
In 1994, Bob Rimol, owner of Rimol Greenhouse Systems, decided to leave his home state of New Jersey and relocate with his young family to New Hampshire. Bob began working as a greenhouse manufacturer's representative specializing in structures and systems. However, he soon realized the need to "build a better mousetrap" and set out to customize greenhouse technology in order to better suit the needs of his customers. Bob then founded Rimol Greenhouse Systems in order to provide innovative and quality greenhouse technology for local growers.
Rimol Greenhouse Systems has since developed a number of free-standing greenhouses, benches and an entire line of products to complement the greenhouse structures. Other structures include the movable The Rolling Thunder™, high tunnels, and hydroponic systems. All Rimol Greenhouses are designed to be economical, yet rugged enough to handle the harshest snow and wind conditions experienced in New England and many other regions of the country.
Today, Rimol Greenhouse Systems has become a major greenhouse manufacturing company and has developed a brand name synonymous with quality. Although the company has grown and expanded, Rimol Greenhouse Systems still ensures that it is meeting the individual needs of every customer. Rimol products can be found all across the United States.