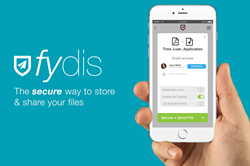 Malicious file hacking costs the world economy over $300bn each year. We believe that Fydis' technology can solve this
London (PRWEB) October 20, 2015
Fydis is a desktop and mobile application that uses a first-of-its-kind encryption methodology to protect users' files, no matter how, where or who they're shared with. Users can instantly secure, control and track the files they upload to the cloud, send via email, or store on their devices.
Fydis allows users to control who can access a file, and even restrict access to a specific time, device, or location. The application keeps a full audit trail of every interaction with a file, and alerts the user of any unauthorised or suspicious access attempts.
Unlike other file security solutions, which allow the file encryption process to be reversed, Fydis is the first solution with no built-in decryption. This means that once a file is protected, it's protected forever.
Peter Barbas, Founder of Fydis says: "Every morning, over 117,000 people wake up to find that their financial information, personal data, intellectual property or work files have been hacked, stolen or leaked. That's over twice the number of people that fit into the Yankee Stadium having their private information stolen and used for malicious purposes every day. Given how advanced data security technology is today, this is not an acceptable number."
Peter adds "Malicious file hacking costs the world economy over $300bn each year. We believe that Fydis' technology can solve this problem, but the technology is just one piece of the puzzle. To solve a challenge of this scale, we need every bit of support we can get. That's why we decided to launch Fydis on Indiegogo."
The crowdfunding campaign, which launches on Indiegogo today, offers backers the opportunity to be the first to protect their digital information with Fydis. The funds raised from the campaign will be used to scale Fydis' operations by increasing its secure server infrastructure, and investing in back-end software optimisation, front-end user interface development, customer support, and developing the software's mobile application.
For more information please visit: http://fydis.com
###
Notes to editors:
The Indiegogo page can be accessed here: http://igg.me/at/fydis/
The Indiegogo campaign will launch on October 20th, and run for 50 days until 9th December.