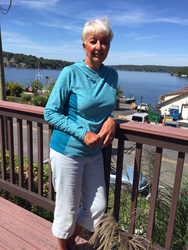 Rita's white blood cells go to boot camp to learn to fight her own tumor cells bearing the proteins. Rita will be injected with the resultant vaccine over the course of the next two and half years
Morristown, NJ (PRWEB) October 20, 2015
Rita Coakley of Roxbury, NJ is one of the first patients enrolled in Phase III of the DCVax® trial. This form of immunotherapy is designed to stimulate a patient's own immune system to fight cancer.
According to Dr. Moshel, an Atlantic NeuroSurgical Specialists (ANS) neurosurgeon , co-director of the Brian Tumor Center of New Jersey and investigator on the trial, DCVax is unique. It is a personalized vaccine created by educating a patient's own immune cells to recognize and kill his/her cancer cells. Rita's participation in the trial is being administered by Dr. Michael Gruber, co-director of the center.
"Before Rita started radiation, we collected a coffee-cup's worth of white blood cells and extracted her dendritic cells," he details. "We then sent the cells and the tumor to a facility in Tennessee. They take the protein from the tumor and introduce it to the dendritic cells so they learn to recognize and kill the cancer cells bearing those proteins. Essentially, Rita's white blood cells go to boot camp to learn to fight her own tumor cells bearing the proteins. Rita will be injected with the resultant vaccine over the course of the next two and half years."
Rita and Leo are thrilled about the opportunity to be in this trial.
"This is like an extra insurance policy," Leo said. "In addition to the normal follow-up treatment Rita will receive, which includes one week of oral chemo for each of the next six months, she will also have the benefit of the vaccine. Even though the trial includes a possibility of receiving a placebo, if her tumor reappears, she will immediately receive the vaccine as part of her treatment."
Even though battling brain cancer is no picnic, Rita and Leo have incredibly positive attitudes.
"The care Rita has received has been outstanding," Leo concludes. "Dr. Moshel, the ANS team and Morristown and Overlook Hospitals have been incredible."
When asked what advice she'd give to other patients, Rita quipped: "Keep a positive attitude and never underestimate the power of prayer. And make sure you have medical professionals who are brilliant. Their knowledge and expertise is paramount. You definitely want that plus bedside manner, but if you have to pick, pick brilliance over bedside.
"And, a few last things: Never lose your sense of humor. Battling cancer is traumatic, and humor plays a critical role in recovery. Take advantage of the support that's out there. The love and caring from family, friends, co-workers, medical staff and other patients goes a long way on the road back to good health."