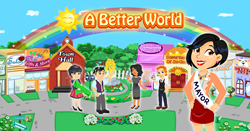 A Better World isn't just "Free-to-Play" like other online games - through January 1st, the only currency accepted is acts of kindness and other social good you can do in game.
Wayne, PA (PRWEB) October 19, 2015
In the spirit of the holiday season, A Better World is now available for no cost until the end of the year. The game isn't just "Free-to-Play" like other online games - through January 1st, the only currency accepted is acts of kindness and other social good you can do in game. Players do things like helping friends or family, being green, doing chores, and writing messages to sick children, among many others. If players perform 1,000,000 good deeds total by year end, A Better World will release funds to provide new coats for children in need nationwide through Operation Warm.
A Better World is a game on Facebook that has always been free-to-play, but extras within the game such as special clothing, accessories, and pets have been available for purchase. Now, those extras can be obtained exclusively with virtual currency called Do-Good Gold which is earned within the game by doing good deeds. Additionally, as part of the goal to bring the world together in doing good, A Better World has added in-game language translations for all player posts in the do-good areas of the game, allowing them to share their good acts around the globe.
A Better World is a fun way to do good. Players can dress up, take care of pets, and decorate virtual homes, in addition to completing acts of kindness. Players work together to meet do-good goals that, when met, release money to charities. A Better World calls this Cause Gaming®.
"The holiday season is a time for coming together and giving back and we want to do our part here at A Better World," said A Better World President and COO MarySue Hansell. "We're excited to unleash the power of A Better World to help make the world a better place." The team at A Better World believes the game will help cultivate attitudes of gratitude and will show players that doing good means feeling good.
The company is currently seeking investors and corporate partners that resonate with their mission to use the imaginative, interactive, and immersive power of games to change the world. You can learn more about the company and play the game at: ABetterWorld.com
For more details or high resolution images please email Patricia Maristch at Patricia(at)piquedpr(dot)com
About A Better World
A Better World is a Social Enterprise whose mission is to make "Uplifting Games and Apps to Brighten the World." Our goal with everything we do is: Do-Good, Have Fun, and Change The World. We're committed to creating awesome stuff designed with the purpose of making a difference through optimism, altruism, and charity. Our flagship product is our A Better World game on Facebook, "Where All Good Deeds Are Rewarded and Real World Causes Are Supported!" As of Summer 2015, over 3 million people have done over 35 million good deeds in A Better World. Check it out at Facebook.com/ABetterWorld.
About Operation Warm
Operation Warm, Inc. is one of the nation's largest nonprofit providers of new winter coats to children in need. Operation Warm's vision is that every child wearing a new winter coat is healthy, able to attend school regularly and develop a strong self-esteem. To date, Operation Warm has served over 1.4 million children across 42 states. For more information visit: OperationWarm.org.