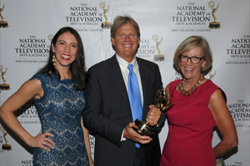 "Right now we are painted with the brush of 'kids for cash,' pornography here in Philadelphia, indictments in Allegheny county... we have just got to change what we are doing." - Judge Michael George
(PRWEB) October 23, 2015
Now available online, watch The American Law Journal address "Electing Supreme Court Judges: Justice for Sale?"
Joining host Christopher Naughton are Hank Grezlak, Editor-in-Chief of The Legal Intelligencer, Lynn Marks, Executive Director of Pennsylvanians for Modern
Courts, appellate lawyer, "How Appealing" blogger Howard Bashman and former chief U.S. District judge for the Eastern District of Pennsylvania, the Hon. Edward N. Cahn of Blank Rome.
"Right now we are painted with the brush of 'kids for cash,' pornography here in Philadelphia, indictments in Allegheny county" states Pennsylvania Supreme Court candidate Judge Michael George. "We have just got to change what we are doing."
"This is also an historic election because of the historic number of openings," says candidate Judge Kevin Dougherty. "The last time there were three vacancies on the court was 1704. William Penn was governor of Pennsylvania and the monarch of England selected the candidates."
Some question whether it's time to ditch judicial elections altogether. Thus far the seven candidates have collectively raised over $5 million. "Judges need to spend money and secure contributions from lawyers to get elected to their office," says Judge Cahn. "It should be ended."
The American Law Journal was nominated for four Mid-Atlantic Emmy® awards in 2015 and winner of the interview/discussion program category. The program is celebrating twenty-five years on the air and has been hosted by former New Jersey prosecutor and trial attorney Christopher Naughton since its first program in 1990.
Broadcasting Monday nights at 7:00 p.m. on the Philadelphia CNN- News affiliate WFMZ-TV to Pennsylvania, New Jersey, Delaware and online, the program discusses consumer, business and Constitutional issues with attorneys, law professors, judges, elected officials and others to shed light on current legal news and how the system impacts the everyday lives of citizens.
 
Programs are live or taped in studio and on location. Archived programs can be viewed at http://www.LawJournalTV.com.