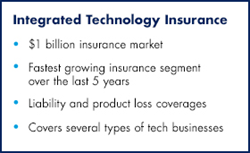 Bala Cynwyd, PA (PRWEB) October 20, 2015
The technology market is a one billion dollar businesses for the insurance industry. The constant evolution of technology and growth of the industry presents no shortage of insurance coverage issues for companies. Philadelphia Insurance Companies' (PHLY) new Integrated Technology product addresses those issues by offering a suite of specificly tailored coverages for complex, multifaceted technology organizations.
PHLY's product offers all the coverage needs for a technology company, in one location. Coverages can be tailored to meet the insurance needs of a wide range of companies including Light Assembly, Telecommunications, Computer Hardware and Software Distributors, Programmers, I.T. Consultants, Data Processing Schools, Computer Training Facilities, and Government Contractors.
"We offer a broad definition of 'technology services,' because this industry is constantly evolving and offering new products or services," commented Jerome Wilson, product manager in the Management & Professional Liability division at PHLY. "Our Integrated Technology product is a one-stop shop, meaning companies can be sure there are no gaps in coverage, and expect issues to be resolved more quickly than when multiple carriers are involved."
One unique benefit provided by PHLY's Integrated Technology product is the inclusion of subcontractors under the insurance. This protects a company in the case that issues arise from the use of a subcontractor for any number of reasons. Another important benefit is additional defense, on top of the coverage limits, since defense is a critical need for tech companies. PHLY's Integrated Technology offers multiple coverages for liability exposures that fall under general liability or product loss. Coverage also provides access to risk management services including legal and data breach coaches, who are experts in the tech field. Policyholders will also find individual limits for each coverage, lessening the worry that limits will be reached.
For more information on the PHLY Integrated Technology product, please visit PHLY.com or contact a PHLY Marketing Representative at 1-800-873-4552.
About Philadelphia Insurance
Philadelphia Insurance Companies designs, markets, and underwrites commercial property/casualty and professional liability insurance products incorporating value added coverages and services for select industries. In operation since 1962, the Company, whose commercial lines insurance subsidiaries are rated "A++" (Superior) by A.M. Best Company and "A+" for counterparty credit and financial strength by Standard & Poor's, is nationally recognized as a member of Ward's Top 50, National Underwriter's Top 100, and one of the Top 150 Workplaces in America. Policies are underwritten by Philadelphia Indemnity Insurance Company, admitted in all US states and D.C., except Louisiana and Tokio Marine Specialty Insurance Company, a surplus lines insurer admitted in Delaware for surplus lines and authorized in all other US states and D.C. The organization has 49 offices strategically located across the United States to provide superior service. For more information, please visit http://www.PHLY.com.