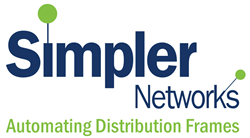 LONDON, Broadband World Forum (PRWEB) October 20, 2015
Sckipio Technologies, the leader in G.fast modems, announced that it has partnered with Simpler Networks, the leader in automation of copper distribution frames to deliver the highest G.fast port provisioning density on the market. By combining Sckipio's high-density 32-port G.fast Distribution Point Unit (DPU) with Simpler Network's EZ-Edge 100-port Automated Distribution Frame, telcos can pre-wire an entire 100-resident apartment building at half the cost.
G.fast is the exciting new broadband access technology, enabling ultrafast broadband access over existing copper wires. The new Sckipio 32-port G.fast DPU offers the highest port density with internal distributed vectoring on the market today. Announced and demonstrated at the Broadband World Forum in London, Sckipio's solution can reach up to 1Gbps per subscriber with a single pair and as far as 500 meters running up to 400Mbps with standards-compliant chipsets that are bonded into two pairs.
Typical broadband take rates run around 20-30 percent. This means that a 100-unit building can be completely covered by a single 24 or 32-port DPU when combined with a Simpler Networks EZ-Edge Automated Distribution Frame (ADF).
Simpler Networks' EZ-Edge is a cost effective ADF that utilizes state of the art latching relay technology that supports G.fast traffic. Service providers simply pre-wire all the apartments in the MDU to a Simpler Networks ADF, which connects active ports to any Sckipio-enabled G.fast DPU. Since both devices can be remotely controlled, the combined DPU/ADF solution can eliminate truck rolls -- reducing operators' OPEX and CAPEX by over 50%.
"It's a no-brainer, " said Mike Perrault, President and CEO of Simpler Networks. "Together, our solution cuts G.fast deployment costs in half and allows for complete flexibility in terms of the type of G.fast DPU that gets installed. Port counts on both sides of the system can be optimized to conform to each operator's unique environment."
"The combination of Sckipio's highly acclaimed G.fast technology with Simpler Networks' flexible ADF solution provides a highly compelling offering for service providers," said Sckipio co-founder and CEO, David Baum. "Now, telcos get high G.fast DPU utilization rates, lower capital outlays and lower operating costs."
As the equipment nodes get closer to the consumer, many smaller distribution points need to be managed. This is where zero-touch provisioning provides savings for the operator with better quality of service and customer retention.
In addition to the support of copper wires, the overall solution is also applicable in coax-based environments. Any MDU that has "home runs" of coax to the basement can use the Sckipio G.fast solutions and Simpler Networks ADF to provision affordably in cable-oriented markets. In this scenario Baluns are needed to convert coax into twisted pair, and this opens up a whole new segment of potential partners and providers.
About Sckipio
Sckipio, the leader in G.fast modems. Based in Ramat Gan, Israel, Sckipio is the first company to announce and ship commercial G.fast chipsets that will deliver up to 2 Gbp/s broadband over twisted pair. http://www.sckipio.com
For more information contact:
Rainier Communications for Sckipio
Karen Quatromoni
kquatromoni(at)rainierco(dot)com
+1-508-475-0025 x.150
About Simpler Networks
Simpler Networks is the technology leader driving the automation of copper distribution frames in MDUs, street cabinets and remote central offices. Its Automated Distribution Frame (ADF) products enable operators to fully automate deployment with zero touch provisioning to accelerate revenues and reduce OPEX and CAPEX costs by more than 50%. http://www.simplernetworks.com
For more information contact:
Peter Benisti, CMO
peter(at)simplernetworks(dot)com
+1-514-375-4001 x.101