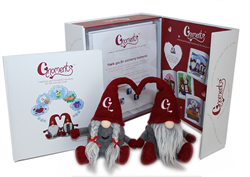 The Gnoments kit comes with a boy and girl gnome and a 32 page illustrated story book to help get the creative ideas flowing.
(PRWEB) October 20, 2015
More than a romantic gift made to pull at one's heartstrings, the gnomes behind Gnoments™ are a tech-savvy duo designed for the 21st century. This innovative creation harnesses the convenience of modern technology and pairs it with two adorable gnomes to connect loved ones and encourage the thoughtfulness we all need in a relationship.
Through the gnomes embedded NFC Chip (Near Field Communication), couples are able to program a variety of special messages using NFC-enabled smart phones that their loved one can scan and read. These messages can include:

text
maps and locations
links to sound recordings, videos and photos
links to websites, and social media
From their long pigtails and beards, to their giant noses and handy backpacks where handwritten notes and small gifts can be hidden, every detail is meant to bring a smile to one's face and an excited tingle to one's belly in anticipation of what the secret message will be. Whether the user programs a message onto the chip or puts a note in the back pouch, they must hide the gnome where the significant other is sure to find it. Once discovered, the partner will surely feel loved as they either open the back pouch to reveal the surprise inside or scan the chip to retrieve the message.
Is it a picture from a favorite date?
Could it be a heartfelt declaration of love?
A date night to your favorite restaurant?
Or maybe it's the location for the start of a fun scavenger hunt?
There's only one way to find out--or is there? If an NFC-enabled phone is not available, similar messages can be sent via email or text through Gnomifications on the mobile friendly website Gnoments.com, where couples can also create custom Gnomitars. Each set comes with a boy and girl gnome and a 32 page illustrated story book to help get the creative ideas flowing.
Contact:
Natalia Barclay
Allettare Public Relations
(916) 952-3629
Nataliabarclay(at)allettarepr(dot)com
About Gnoments™
Gnoments™ launched in October of 2015 with the mission of fostering fun, thoughtfulness, and love in relationships in light of today's busy lives. The gnomes in the Gnoments kit encourage and remind couples, young and old, to enjoy the moments and the storybook is full of ideas to help you get started. Contact natalia(at)allettarepr(dot)com or visit gnoments.com for more information.