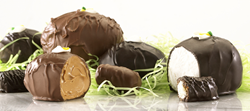 (PRWEB) October 19, 2015
Zitner's Candy, locally famous for delicious, chocolate covered filled Easter eggs will be featured on the Travel Channel's "Bizarre Foods" with Andrew Zimmern, on Tuesday, October 20th at 8PM/7C. (see link below) In the great tradition of soft pretzels, scrapple and cheesesteaks, Zitner's has a strong and fiercely loyal following. The entire episode is devoted to Philadelphia favorites and is called "Philadelphia: Shad Cakes, Krak & Kishke." (The Zitner's Butter Krak® Eggs are the "Krak" portion of the episode.)
Not only has Zitner's been making candy the same way for almost a century, but it is one of the few holdouts to stay loyal to Philadelphia with its employees and location. Several employees have been working there for over 35 years. And they have no intention from moving from their humble location in North Philadelphia.
http://www.travelchannel.com/shows/bizarre-foods/episodes/philadelphia-shad-cakes-krak-and-kishke
As the Travel Channel says: "Andrew travels to Philadelphia, a city built on doing things their way - especially when it comes to food! From cheese-steak and shad cake to turkey neck and pig liver, Andrew discovers the secret to a good bite is Philly pride."
Zitners Candy Corp has been making delicious, chocolate covered, filled Easter eggs in Philadelphia since 1922. They still use the same high quality ingredients and many of the same recipes as they did almost a century ago. More recently, Zitner's offers a large line of gourmet chocolate covered pretzels. And this year, will be making 4 new Christmas varieties of their famous chocolate covered candies.
Contact Information:
Evan Prochniak, President
evan(at)zitners(dot)com
215-229-4990 (o)
215-720-8000 (c)
Zitners Candy Corp
3120 N 17th St, Philadelphia, PA 19132