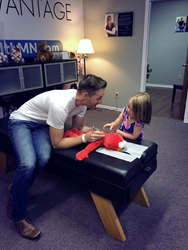 My vision and mission is to serve this community by promoting spinal health and wellness
Jordan, Minnesota (PRWEB) October 20, 2015
Always striving to provide the best care possible for the community, Dr. Jeff has never hesitated to implement the latest technology into his practice in Jordan.
This technology is used to assist in the detection of subluxations by measuring physiological activity. Subluxation is the term used to describe an abnormal position/ movement of the spinal vertebrae which disturbs communication within the central nervous system, causing decreased human potential and function. The Subluxation Station features three different, painless and non-invasive tests that help characterize this abnormal activity surrounding the spine.
"Often times, subluxations do not create pain or discomfort until they have progressed to an advanced stage," says Dr. Jeff. "The Subluxation Station™ helps me to accurately identify these problems before they become symptomatic." As a result, your chiropractor can prepare a specific care program based on each patient's test results.
Dr. Jeff received extensive hands-on training at a recent four-day chiropractic program. "At the program, I was provided with scientific research that proves having a subluxation-free spine and nervous system is an essential component of optimum health. My vision and mission is to serve this community by promoting spinal health and wellness," maintains Dr. May. "I envision a community where the people don't think twice when it comes to knowing that regardless of the season, their health has an advantage."
Anyone wishing to receive a computerized spinal screening can contact the Total Health Advantage at 952-492-3222 to arrange for an appointment or request more information about chiropractic and the technology.