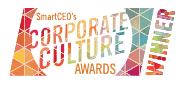 "It is an honor to be recognized for the hard work we put into our company's culture and to be named one of SmartCEO's Corporate Culture Award winners," said Bill Vergantino, ExpenseWatch president and CEO. "Maintaining a culture that creates a foundation
Plymouth Meeting, PA (PRWEB) October 20, 2015
Philadelphia SmartCEO has named ExpenseWatch a 2015 Corporate Culture Award winner. The Corporate Culture Awards celebrate 50 companies in Greater Philadelphia that have successfully championed a positive, productive and performance-driven culture, and have worked with their employees to develop successful cultural practices.
"It is an honor to be recognized for the hard work we put into our company's culture and to be named one of SmartCEO's Corporate Culture Award winners," said Bill Vergantino, ExpenseWatch president and CEO. "Maintaining a culture that creates a foundation for our employees to view ExpenseWatch as their best employment experience is one of the five success factors we believe drives our ability to succeed."
"The leaders of the companies named to the inaugural Corporate Culture Awards have realized that running a company is more than head count and the bottom line. It's about creating a place where creativity, energy and ideas are cultivated. Through this they are able to not only enhance performance and sustain their companies' competitive advantages but also enrich the lives of those they employ and inspire them to make a greater impact on the world," says Jaime Nespor-Zawmon, president of SmartCEO Events. "We're honored to celebrate with the leaders of Philadelphia's top company cultures and recognize them for building true performance-driven cultures."
SmartCEO's Corporate Culture Award winners will be honored at a ceremony at the Philadelphia Radisson Blu on Dec. 17, 2015. The leaders of Philadelphia's top companies will gather to mingle, celebrate and share stories about their collective successes. The event will kick off with a high-energy networking reception, complete with fun activities, including ping-pong, a photo-booth and a basketball shootout. Accompanying the fun is a video-packed awards ceremony that will honor the leaders of Philadelphia's top company cultures.
About SmartCEO (http://www.smartceo.com)
SmartCEO's mission is to educate and inspire the business community through its award-winning magazine, connections at C-level events and access to valuable online resources. SmartCEO's integrated media platforms reach decision makers in the Baltimore, New York, Philadelphia and Washington, DC, metropolitan areas.
About ExpenseWatch (http://www.ExpenseWatch.com)
ExpenseWatch automates manual, time consuming paper-based processes, for visibility and control over organizational spending, empowering customers to spend with confidence. Modules for expense reporting, purchasing and payable invoices (bills) resolve specific spending issues, or can be combined to provide a comprehensive spend management suite. The company was founded in 2000, released the first version of its spend management service in 2003 and currently manages almost $3 billion in annual spend transactions on behalf of its customers. The company is privately held with headquarters in Plymouth Meeting, PA, a suburb of Philadelphia.
###