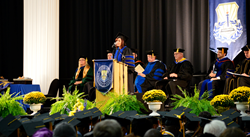 Orange Beach, Ala. (PRWEB) October 16, 2015
Columbia Southern University is preparing for more than 3,800 graduates and guests from around the globe to attend its annual commencement ceremonies on Friday, Oct. 23 in Orange Beach, Ala.
Two graduation ceremonies will be held at the Orange Beach Event Center to accommodate approximately 730 graduates. There will be a ceremony at 9 a.m. and a second ceremony at 2 p.m. featuring graduates from as far away as Vietnam, the Virgin Islands, Puerto Rico, Canada and nearly all U.S. states.
This year's ceremonies will feature retired Gen. Dan K. McNeill as the keynote speaker. He has a distinguished record of service and has strong ties to Army installation of Fort Bragg in North Carolina, with key assignments as the commanding general, 82nd Airborne Division, as well as the commanding general, XVIII Airborne Corps and Fort Bragg.
Graduates will hear remarks from Alabama State Rep. Steve McMillian, Orange Beach Mayor Tony Kennon and Baldwin County District 3 Commissioner Tucker Dorsey.
There will be an open house at the CSU Center for Continuing Education on University Lane in Orange Beach from 10 a.m. to 4 p.m. Thursday, Oct. 22 where faculty and staff will greet graduates and guests. After the open house, CSU will conduct a reception for the graduates at the Gulf State Park Beach Pavilion for networking and socializing.
The graduation ceremonies are closed to the general public as seating capacity has been reached.
CSU offers online certificate and associate, bachelor's and master's degree programs in various fields such as human resource management, occupational safety and health, fire administration, criminal justice and business administration.
To learn more, visit http://www.ColumbiaSouthern.edu.