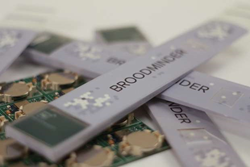 To bee or not to bee
Madison, WI (PRWEB) October 17, 2015
BroodMinder today announced the introduction of its Model 42, temperature and humidity telemetry system designed specifically for beehives. Targeted at the rapidly expanding home beekeeping enthusiast, the Model 42 will wirelessly send hive status to Apple and Android phones and tablets. The Model 42 will allow the user to frequently monitor the brood viability without exposing the hive occupants to freezing temperatures. Breaking though the price barrier, at $60 the BroodMinder will be within budget of many beekeeping enthusiasts.
"I lost too many hives while I was a beginning beekeeper, many times not realizing it until spring. I designed the BroodMinder for people like me who want to keep a close eye on their bee buddies," said Rich Morris, Lead Drone at BroodMinder. "The Model 42 does not replace good wintering practices, but it does give you visibility to take action before it's too late."
Hive overwintering is one of the most complex tasks a beekeeper faces, particularly in northern climates where temperatures fall below freezing for weeks at a time. During the winter the bees form a ball around the queen and use their body temperature to maintain hive warmth, the center of the brood being around 90°F. Typical reasons for hive failure include starvation or condensation 'raining' down on the bees due to high humidity inside the hive.
With the BroodMinder Model 42, when a rapid decline in temperature or increase in humidity occurs, it will encourage the beekeeper to inspect the hive despite low temperatures outside. Then if required, corrective action may be taken such as adding a sugar board for food, or reconfiguring the ventilation to reduce humidity.
Beekeeping has grown during recent years due to the increasing awareness of the important role honeybees play in our always changing ecosystem. As a result, many new urban beekeepers have joined the ranks and the membership of local beekeeping clubs has swelled. With this growth is also a shift in demographics towards young hobby and sideline beekeepers. People are looking for new ways to learn about and understand their bees more thoroughly.
"To bee, or not to bee, that is the question… that I ask myself all winter. Being an electrical engineer and experienced product designer, I decided to do something about it." Morris said. With recent experience running the local product design firm bb7, he believes that he has what it takes to introduce this product into the worldwide beekeeping market.
Following introduction of the Model 42 temperature and humidity monitor will be development of a wireless scale which will allow hive weight to be followed. A cost effective scale will let the beekeeper to watch brood growth in the spring, and monitor honey flows, which come on periodically during the summer.
To learn more about BroodMinder and how to purchase the Model 42, go to BroodMinder.com.
About BroodMinder
BroodMinder was founded in June of 2015, dedicated to providing actionable data at low cost to the dedicated beekeeper, utilizing Bluetooth Low Energy (BLE) and other technology tools. With a keen focus on good design and scientific validity, the team is anxious to work with all manner of beekeepers be they hobbyist, commercial, or academic. With 125,000 beekeepers in the US managing approximately 3 million hives, we will be reaching out to determine what tools are needed most. Funding for BroodMinder is utilizing private bootstrapping resources as well as an Indiegogo campaign.
Inquiries:
Rich Morris
Founder and Lead Drone
BroodMinder
info(at)BroodMinder.com
http://www.BroodMinder.com