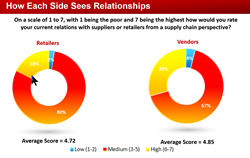 "Retailers are taking a harder line and being less willing to allow for the vendors inability to change their process to comply." Vendor Executive
Sugar Land, TX (PRWEB) November 18, 2015
Where do retailer-vendor relationships stand in 2015? Are they getting better or getting worse?
Those were the key questions Compliance Networks sought to answer when they commissioned SCDigest to create a new benchmark report on the state of the relationships between retailers and their vendors. While there are certainly some positive indicators in the data, in the end the SCDigest deemed the grade for 2015 to be just a B-, meaning there is lots of room for improvement.
Compliance Networks partnered with SCDigest and the Retail Value Chain Federation to uncover the state of collaboration in the retail industry, trends in chargebacks and deductions, and more. In addition to benchmarking the current state of affairs, the research will now also provide a valuable baseline index for measurements of progress in the state of trading partner relationships over time.
The SCDigest study is based on survey responses from about 50 retailers, 200 vendors, and 80 others (consultants, academics, etc.).
The research identified some positive trends. For example, retailers and vendors both had generally positive views of their overall supply chain relationships with each other, each side averaging a score of about 4.8 on a 1 to 7 scale (7 being the highest), well above the mid-point of 3.5.
However, 51% of vendors say retail chargeback levels for supply chain violations is going up, and 52% expect them to rise over the next 5 years, neither data point a positive indicator. Meanwhile, retailers do not believe vendors, especially in tier 2 and tier 3, have enough resources to adequately manage their retailer relationships and meet compliance requirements.
One retailer who participated in the study stated, "Vendors simply continue to struggle to deliver on time with the right labeling, documentation, etc.," while a vendor participant commented that "Retailers are taking a harder line and being less willing to allow for the vendors' inability to change their process to comply."
"All told, we rate the current state of retailer-vendors relations as a grade of B-," the report concludes. "This is based on continued disconnects around retail chargebacks, retailers perceiving relatively low levels of collaboration across all three tiers of vendors, many perceived strong barriers to more collaboration, and a lack of focus on supply chain improvement opportunities in retail-vendor meetings."
Greg Holder, CEO of Compliance Networks, a provider of retail vendor performance management solutions, noted that "The data in this report is very consistent with what we see out in the field. Leading retailers and vendors are working more collaboratively to improve supply chain performance, but others at times are not maximizing their joint potential."
Supply chain practitioners can learn more about the study at this resource page, which includes a downloadable copy of the full report, a recorded on-line panel discussion on the story, and other materials.
About Compliance Networks
Compliance Networks is a leading provider of proven, private-cloud supply chain visibility, supplier performance, and vendor compliance software solutions for retail supply chain excellence. Since 2000, our suite of solutions have enabled enterprises to improve profitability through continuous improvements in supply chain execution. Compliance Networks is proud to serve leading organizations such as Kohl's, Pep Boys, Sports Authority, Tractor Supply Company, Neiman Marcus, other top retailers, and thousands of retail suppliers.