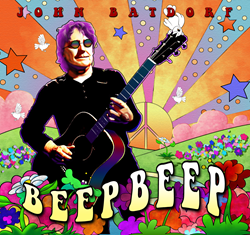 "Beep Beep is quite a pleasant listen, sparked by Batdorf's songwriting, arranging, and storytelling skills; he may not be a household name like Jackson Browne, Bruce Springsteen, or Roger McGuinn, but he's right on par with any of them." - SD Troubadour
Los Angeles, CA (PRWEB) October 20, 2015
Singer-songwriter John Batdorf, known for his work with Batdorf & Rodney and Silver, is pleased to announce the release of his new album Beep Beep. The new album follows along in the deeply personal feeling seen throughout his catalog of music, opening up his heart with lyrics personal enough they feel like journal entries. The songs range from touching and warm, to raw and comedic, often reflecting John's everyday life. Producing great chorus sections with catchy phrases that inspire the listener to sing along, Beep Beep is a joyous and uplifting album comprised of 11 great songs, all written and produced by John.
"Beep Beep is quite a pleasant listen, sparked by Batdorf's songwriting, arranging, and storytelling skills; he may not be a household name like Jackson Browne, Bruce Springsteen, or Roger McGuinn, but he's right on par with any of them," writes Wayne Riker in the San Diego Troubadour.
The title track, "Beep Beep," was the first song written, and the catalyst for the whole album. The song, which was written about John discovering music via The Beatles in the 60s, is a tribute to the legendary band's technique and feel. "I was so lucky to have grown up listening to this incredible band that launched so many other great bands and did indeed change the world forever," John Batdorf.
Watch the music video for "Beep Beep" here: https://www.youtube.com/watch?v=ty-lgmBCypA
Inspired by his close relationship with his grandchildren, "Imagination of the Heart" is a great example of how John takes moments from his life and rearranges them to create a melodic story for the listener. John sings, "Don't it all just seem kinda funny, life starts so innocently, St. Nick, Tooth Fairy, Easter Bunny, it's a world that felt safe to me."
Other songs have a hint of comedy that can be found in a lot of our lives. The song "Where Does All the Money Go" is a silly but honest take on the question we all have asked ourselves at least once in our lives. A funny example from the song is, "All these extra fees, will be the death of me, I don't know this math but, I bend over while I plead." With lyrics like these listeners have the opportunity to laugh while enjoying great melodic hooks and balanced mandolin phrases.
John Batdorf has been making music for over four decades. Starting out at the tender age of 19, John was part of Las Vegas Rock and Roll Hall of Fame inductee Batdorf & Rodney. After four years, and three albums, the band went their separate ways. John then became a member of Silver and together they released an album which included the hit, "Wham Bam Shang-A-Lang." He left Silver and found great success in the studio as a staff songwriter, a TV composer, and a session singer. Later teaming up with legendary Utah-based singer, composer, and filmmaker, Michael McLean, on a unique substance abuse survival platform, they created an inspiring CD, Soundtrax2Recovery. Now working solo, Beep Beep is his fifth album on his label, BATMAC MUSIC.
For more information please visit: http://johnbatdorfmusic.com/
ALBUM SEQUENCE
1. Beep Beep
2. Where Does All The Money Go
3. She Knows What I Like
4. That's What I'll Remember
5. Feels Like Home
6. Imagination Of The Heart
7. What's A Guy To Do
8. Dream
9. Please Don't Go
10. Never Forget
11. After The Race Is Run
LINKS
Facebook: https://www.facebook.com/pages/John-Batdorf-Music/279578037051
Twitter: https://twitter.com/johnbatdorf
TOUR DATES
OCTOBER
16 Live in Studio at KRVM Eugene, OR
23 House Concert Paso Robles, CA
24 Grass Roots Oasis San Diego, CA
25 Song Writers' Studio at KPFT Houston, TX
NOVEMBER
6 Traditions Café Olympia, WA
7 North Bend Land Stars North Bend, WA
8 House Concert Sammamish, WA
12 The Old Home Place Series Buffalo, MO
13 Columbia House Concert Series Columbia, MO
14 Log House Concerts Edwardsville, IL
15 CD Release Party St. Louis, MO
DECEMBER
11 The Center for Spiritual Living Simi Valley, CA
12 House Concert Eagle Rock, CA
13 Crown Books Woodland Hills, CA
JANUARY
9 Olalla Community Club Olalla, WA
Media Contacts:
Michael Jensen or Julia Matulionis
Jensen Communications, Inc.
626-585-9575
mj(at)jensencom.com or julia(at)jensencom.com