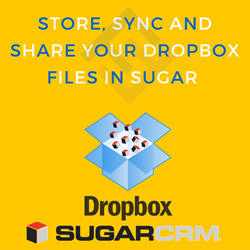 Woodland Hills, CA (PRWEB) October 19, 2015
Faye Business Systems Group is a leading SugarCRM Elite Partner known for their breadth of innovative Sugar Add-On products, including Sugar integrations with: Accounting / ERP software, Document Storage platforms, Project Management tools and Marketing Automation software.
With the release of version 2.0 of their Sugar Dropbox integration, FayeBSG has positioned itself as the premiere CRM Document Storage integrator for Sugar.
Click here to view a 4 minute demo of the FayeBSG Sugar Dropbox Integration.
New Sugar Dropbox Features include:

Easily maintain and organize Dropbox files in Sugar
Customize and define folder names by Sugar module
Add a personalized Drobox dashlet in Sugar displaying your files, or all files in Dropbox account
Create new Dropbox folders within Sugar records with one click
Drag and drop files from your computer to the Sugar Dropbox dashlet
Viewing any contact, lead or account associated with each folder will automatically be displayed in your Dropbox dashlet
Navigate up to other file folders without having to leave the current dashlet you are viewing
Create new Dropbox folders for new opportunities
Users of Dropbox and Sugar had to previously manage their document storage and sharing of files in separate places. With the FayeBSG Sugar Dropbox Integration, Dropbox users can manage, access, and share any amount and type of file on Dropbox within Sugar.
View FayeBSG Services here: http://fayebsg.com/services/
About Faye Business Systems Group
FayeBSG is an award-winning software company and consulting firm known for their breadth of SugarCRM Integration Add-On Products and custom software solutions, which include integrations with CRM, ERP software, credit card processing, project management, phone systems, and more. Specializing in extensive multi-layered CRM, ERP and marketing integrations, FayeBSG concentrates on a wide array of high value CRM, ERP and marketing automation development and consulting services.
Recognized by CIO Review as one of 20 most promising CRM and ERP solutions providers for 2015, FayeBSG uses SugarCRM, Sage 100, and a variety of custom software solutions to meet client needs. Services include software development, project management, packaged software implementations, custom software implementations, integration, consulting, training, and support. Faye Business Systems Group has completed hundreds of successful CRM projects, specializes in Sugar Integrations, and is one of SugarCRM's leading North American Elite Partners. For more information, call (818) 280-4820, email info(at)fayebsg(dot)com, or visit http://www.fayebsg.com. Connect with Faye Business Systems Group on LinkedIn, Facebook, Twitter or YouTube.
Press Contacts:
Jesse Heller
Faye Business Systems Group, Inc.
818 280 4820
jesse dot heller @ fayebsg dot com