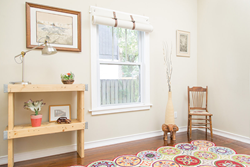 Every day we have hundreds of people coming to our site and many of them are desperate for a solution
Tampa, FL (PRWEB) October 21, 2015
Necessity is the mother of all inventions. And 2 years ago, there was a need. Walker Peek, CEO of Residential Acoustics, was sitting at home trying to enjoy some NBA action when his wife explained that the volume level would not do! After numerous efforts, the volume issue could not be resolved, and play was disbanded for the evening.
Desperate for a solution, and finishing his master's degree at the Columbia School of Engineering, he saw an opportunity. After weeks of feverish research and prototyping, including learning to sew on an ancient Singer sewing machine from his mother's attic, he hung the initial prototype over his bedroom window, grabbed a decibel meter from the garage and was amazed at the measurements – it blocked 90% of the sound, but was flexible enough to move side-to-side. And his wife's reply – "that thing sure is ugly". After several attempts to explain that it was a functional prototype, the curtain was sent to a true seamstress who made the final, aesthetic transformation.
Soundproof Curtains were born that day – a combination of a sound-blocking core and aesthetic cover that allows people to insulate themselves from the outside world, including sound, light, and heat. After dozens of alterations, and a few utility patents, the product was ready for prime time. Today, Residential Acoustics ships their products all around the world and has received amazing reviews.
One particularly striking review comes from Kyle F in Arizona: "I love the curtain, and I never write reviews like this… excellent quality, good looks, easy installation, made in America too... I wish all of you success in life and business, because you have made my life, and dreams, so much better".
Now they're finding out there's another need. Apartment-renters around the world move into their new homes with high hopes, often to find suddenly there are noisy little nuisances that weren't around when they were researching a place to live. And nowadays, online researching and reviews play a huge role in where to live, visit and stay. Major cities and urban environments have the worst problems, and also the largest markets!
"Every day we have hundreds of people coming to our site and many of them are desperate for a solution", says Walker, "We give them one that doesn't break the bank". When tenants are faced with the decision to break their lease or suffer through a year of diminished sleep or work quality, they often go searching for an answer.
As their Sales Manager, Casey Hewins explains, "Few landlords are willing to pay for improved windows and other infrastructure, so we designed our curtains to hang with little to no damage to the room. Although sound-blocking is the primary feature, property owners and managers understand the added benefits as well, like lowering their AC or heating bill, and being able to make their money back in just a couple of months. Starting at under $100, our acoustic curtains will block sound for anyone that needs a solution."
These soundproof curtains are not without their down-side however. They are somewhat cumbersome, and heavier than your average curtain. This is necessary to block the majority of the incoming sound, but gives some customers cause for concern. New curtain styles and retraction methods have helped, and as a product company they are always innovating. Residential Acoustics has partnered with two PhD Polymer Scientists at the University of South Florida on a research grant for a next-generation material that may block as much sound, but at half the weight. This applied research is still some time away, so prospects will need to enjoy their silence with a bit of bulk until then.