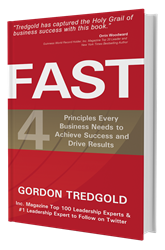 When we have belief the hard work follows naturally
(PRWEB) October 20, 2015
Author Gordon Tredgold launches his third book FAST today through Next Century Publishing. The book is available for purchase from Amazon, Barnes and Noble, and Reader's Legacy. At the start of his career, Gordon was keen for rapid advancement and decided to take on one of the most difficult challenges available; the tough jobs that no one else wanted to do or that people thought would fail. He recognized these opportunities as a FAST way to rise through the ranks.
FAST is a revolutionary approach to leadership that simplifies exactly what is needed in order to be successful. FAST is straightforward, pragmatic, and easy to follow, and will challenge you to think differently about the way you approach your business, your leadership—and your life.
FAST has been successfully used to turnaround failing projects, under-performing departments, and money-losing companies. This method of analyzing all aspects of business and leadership has been implemented in large, complex projects bringing change in record time. It has been used to help leaders, businesses, and corporations alike increase both growth and profitability. It also helped the author, Gordon Tredgold, to successfully run his first marathon at the age of fifty-two.
Next Century Publishing is a world leader in book publishing, book marketing, and providing authors with the best platforms for success. NCP is a cutting-edge publisher that refuses to accept the status quo. The game has changed, and today's authors have more choices than ever. NCP utilizes the latest in social media and technology to increase readership, book sales, and bottom-line profits for its authors. The company is truly unique in that both independent publishing and full-royalty publishing are offered under one label.
Gordon Tredgold:
Gordon has worked in transformational leadership roles for over twenty years, running $100m+ programs, leading $200m+ global operations departments, and implementing large complex organizational change programs for Fortune 100 companies. He is also a visiting professor at Staffordshire University.