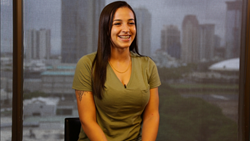 "I knew there was something different about my breasts, but I just didn't know what it was. Beatriz
Honolulu, Hawaii (PRWEB) October 20, 2015
Tuberous Breasts: They may not know its name, but they know how it makes them feel. Starting in puberty, affected young women often struggle in silence with body image issues and physical intimacy throughout their lives. But now, thanks to innovative surgical advances, they finally have a solution.
Since early adolescence, Beatriz knew her breasts were not developing in the same way as her friends. "I noticed mine looked different... and I didn't like how they looked," she says.
Tuberous breast (also called constricted breast or Snoopy breast) is a little-known genetic condition in which the breasts grow in an elongated form set widely apart on the chest wall, and may droop down. It can affect one or both breasts, and may even prevent women from being able to breastfeed because the breasts and milk glands don't fully develop.
"When he told me the issues I had, it was more like a confirmation. I knew there was something different about my breasts, but I just didn't know what it was," Beatriz says.
Part three of the video series shows Dr. Schlesinger performing a Benelli mastopexy, breast augmentation, as well as dermal anchor sutures to fix "pouty" breasts.
"A well-considered and intelligent approach to tuberous breast surgery will provide beautiful results and allow you to live the life you born to live," says Dr. Schlesinger.
You can follow Beatriz's journey from consult to completion on his YouTube channel: https://www.youtube.com/user/LarrySchlesingerMD
Want to learn more? S. Larry Schlesinger, MD, F.A.C.S., is a board-certified plastic surgeon with more than 30 years of plastic surgery experience. He has performed more than 20,000 plastic surgery procedures. He owns the Breast Implant Center of Hawaii (http://www.breastimplantcenterofhawaii.com).
Media: To interview Dr. Schlesinger, contact Jen Longtin, 206-295-2973. Pictures and video available on request. Public: For more information or to schedule a consultation, call 808-597-8835.