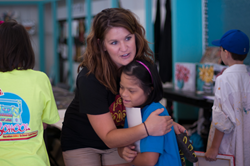 KultureCity is truly honored to have been selected by Microsoft as one of the top nonprofits in the USA as part of their UpgradeYourWorld initiative
(PRWEB) October 19, 2015
Many existing autism charities are geared toward finding a cure for autism. Birmingham-based nonprofit, KultureCity, dares to think outside the box. Beyond focusing solely on an end goal, the organization is dedicated to improving the current day-to-day for children and families affected by autism and supporting sustained, meaningful relations between businesses, community members and all those affected.
Microsoft and partners are now honoring KultureCity for the outstanding resources and tangible help it continues to provide to individuals with autism, their families and their communities. As of Thursday, October 15, the organization is proud to announce its recognition as part of a prestigious group of outstanding, Microsoft and voter-supported #UpgradeYourWorld nonprofits.
Founded in 2013, KultureCity is an impact-driven nonprofit with the mission to create a world where all individuals with autism and their families can be accepted and treated equally. The organization fundamentally believes that these children are not limited by their diagnosis and deserve a future without limits. Its programs reflect its mission to change the "kulture" on how autism is viewed in the world today.
To date, KultureCity has helped more than 14,893 individuals with its toy and tablet programs, as well as the lifeBOKS initiative that helps prevent wandering and wandering-related accidents and deaths in children with autism. It has also launched several sensory-friendly initiatives that focus on making local attractions and restaurants sensory-friendly.
At the end of the day, the volunteers at KultureCity are most proud of the community of acceptance they have helped to create — a community where all individuals with autism and their families not only feel loved, but are also empowered.
National board members of KultureCity include Tiki Barber formerly of the NFL Giants and Thuzio.com, Traci Johnson, Patrick Whaley of Titin Tech, Mike Vo formerly of Tesla Motors, Alimi Ballard star of the brand new ABC series "The Catch", M.L Carr former GM of the Boston Celtics and Dr. Michele Kong from Children's of Alabama.
"KultureCity is truly blessed and humbled to have been selected to partner with Microsoft to be a part of Microsoft's Upgrade Your World Initiative," said KultureCity Founder and CEO, Julian Maha, M.D.
"This collaboration will help us continue to fund many of our projects including lifeBOKS, Toys AUcross America and tabletKULTURE; all aimed to create a world where children with autism can have a chance at a better and brighter future. Thank you, Microsoft, for standing with KultureCity."
For more information about KultureCity and its programs, please visit http://kulturecity.org.
For the full ranking of #UpgradeYourWorld honorees, please see http://www.microsoft.com/en-us/windows/upgradeyourworld/.
Contact:
Julian Maha, M.D
M: 205.907.5659
Julianmahamd(at)kulturecity(dot)org
http://www.kulturecity.org
About KultureCity:
KultureCity is a national 501c3 organization based in Birmingham, Alabama. The organization was founded by Julian Maha, M.D. in 2013 with the mission to create a world where all individuals with autism and their families are accepted and treated equally. Its all-volunteer team consists of dedicated individuals who come from different backgrounds but are all united in the mission to create a better world.