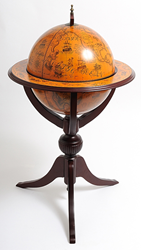 Offering nautical decorative items is a perfect fit for our customer base.
Carlsbad, CA (PRWEB) October 21, 2015
Carlsbad California based SD Model Makers announces the expansion of their product line to include Nautical Décor items. The company currently offers made-to-order, museum quality, replica models of any modern naval warship, ocean liners, tall ships, commercial vessels, and private recreation vessels, both sail and power boats. The company has added nautical decorative items such as binoculars, telescopes, ships bells, compasses and nautical furniture.
Customers around the world are familiar with SD Model Makers museum quality replica models. Visit the shipbuilders across the globe, the Pentagon, or the even White House and you will see examples of SD Model Makers maritime models on display. Whether it is a military ship, a commercial liner or your own pride and joy, the SD Model Makers craftsmen can make them all, with incredible attention to detail and museum quality workmanship.
SD Model Makers founder and President, Captain Brad Poulos states, "As a lover of all things nautical, my home, office and garage is chock full of various nautical items. Some are authentic antiques, some are gifts or souvenirs, and a few items are from my own boats and/or maritime adventures. Every item has a story. There's hardly a free space on any wall or shelf, but I love looking at them. And fortunately my wife enjoys them too. It was a natural fit to offer a few nautical decorative items to our product line."
SD Model Makers core business is offering made-to-order museum quality ship models, in virtually ANY size or scale desired. SD Model Makers motto – "We offer our clients, quite simply - The finest ship models in the world!"
"Providing high quality ship models as gifts, office displays or trade show exhibits in any size or scale for current service members, veterans, ship builders and boat yards will remain the core competency of our business. The expansion of our product line to include nautical decorative items provides our clients with an opportunity to create their own unique display in their home or office, with easy one click on-line ordering through our website store," says Poulos.
SD Model Makers offers museum quality replica models of commercial, military and private vessels. The company can produce ship models in any size or scale desired, as well as display and transportation cases. For further information Captain Brad Poulos at (760) 525-4341.
SD Model Makers
1778 Callisia Court, Carlsbad CA 92011
http://www.sdmodelmakers.com
Phone (760) 525-4341
info(at)sdmodelmakers(dot)com
Contact: Captain Brad Poulos
Office: (760) 525-4341
E-Mail: CaptainBrad(at)SDModelMakers(dot)com