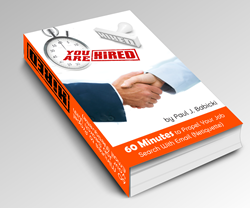 "The smartest people can write the worst emails and those of less intellect can write the best." - Paul Babicki
Princeton, NJ (PRWEB) October 22, 2015
In the world of business, every inch—and word—counts. Within the pages of "You're Hired! Supercharge Your Email Skills in 60 minutes (and get that job…)", marketing professional Paul Babicki arms readers with the essential tools needed to quickly learn, implement, and put into play Netiquette best practices to assist with business communication. The book clearly presents the direct methods to improve Netiquette and more readily land a job. These Netiquette skills ensures emails and résumés are opened, read, and retained. There are advanced guides for proper job acceptance, job rejection, replies, and follow-ups as well.
All too often, bad or even average email etiquette can mean the difference between failure and success in a job hunt. Employers are constantly looking for ways to weed out job candidates. This book eliminates the red flags which lead to rejection by presenting the skills to compose emails more effectively..
In the vein of The Manual of Style and The Gregg Reference Manual, this book is an indispensable resource to return to again and again to improve and sharpen email communications.
Career technology sales and marketing professional Paul Babicki is an expert on using Netiquette as an effective job-hunting tool. Babicki is founder and president of Tabula Rosa Systems, a company that sells "best of breed" computer security, network and management products and services, including many related to cyber communications.
Babicki also writes two popular blogs on email Netiquette IQ and Tabula Rosa Systems and hosts a program on BlogTalkRadio, featuring cyber industry experts. For more than twenty-five years he has gained extensive experience in electronic communications by selling and marketing within the information technology marketplace. He is a member of the International Business Etiquette and Protocol Group and consults for the Gerson Lehrman Group, a worldwide network of subject matter experts.
Further information can be found on the book's website, netiquetteiq.com; the book's blog,
http://netiquetteiq.blogspot.com; blogtalkradio.com/netiquetteiq; its Facebook page, and on Twitter.
Contact Information
Laurie Houghton
Tabula Rosa Systems
http://tabularosa.net