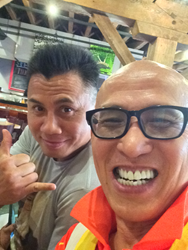 I met Coach Shawn (Liu) at his tournament US Open. This is where I learned and found out about SanDa; back then we called it SanShou.
New Orleans, LA (PRWEB) October 19, 2015
KungFu SanDa Federation (KSF), a division of Shaolin World Federation (shaolinchanfoundation.org) along with Shaolin Institute, other organizational sponsors and friends will host the Shaolin Chan KungFu Legacy - US Open Challenge XXVII at the Carver Theatre on December 12, 2015, in New Orleans, Louisiana
The event highlights the ancient Shaolin arts of KungFu, Tai Chi and K (KungFu) SanDa. Two decades ago Grand Master Shi DeRu (Shawn X. Liu) brought Chinese combat style K SanDa to the US. Shi DeRu trained students who held the championship title in various divisions of K SanDa and went undefeated in both sanctioned and unsanctioned competitions.
Since the competition's inception in early 1990, Shi DeRu has organized over 30 US Open SanShou/SanDa fighting events in the US, including 12 International KungFu SanShou championships and eight professional "Art of War" XKS (Extreme KungFu SanDa/SanShou) Championships sponsored by Shaolin Institute and USA SanShou KungFu Federation.
The 27th US Open Challenge on December 12th features daytime individual and group competitions in KungFu/TaiChi forms and weapons, as well as light contact and continuous sport sparring with limited youth K SanDa. The evening main event includes K SanDa, Shaolin Legacy Show, and internationally recognized KungFu students and masters' performances.
"To empower yourself and find your greatest potential within, you must experience a test of challenges and difficulties laid in front of you so that you will endlessly increase your ability like the law of cosmic universe Qi," said Grand Master Shi DeRu whose students include fighters such as David Sanders and Cung Le, champions within the US Open Challenge and US Open International Martial Arts Championships. Internationally well known fighter Cung Le put it well , "I met Coach Shawn (Liu) at his tournament US Open. This is where I learned and found out about SanDa; back then we called it SanShou." The rest is history.
Patrick Barry and Melvin Guilard, both also well-known UFC and MMA fighters, have held championship titles within the US Open K Superstar competition and the US Open International competition. Other Shi DeRu students and US Open event champions K. J. Noon, Li Jie and Wael Karika Muhammed honed their fighting skills in the US Open KungFu SanDa Championships.
The event offersexhilarating performances for audiences, but ring rules allow martial artists of all styles, amateur or future professional competitors, from all over the world the opportunity to express and challenge themselves and their skills, and to acquire new friendships while participating in a sportsmanlike manner.
###
For more information regarding the 2015 Shaolin Chan KungFu Legacy - US Open Challenge XXVII, please call 504-835-1877 or visit http://www.ksfworld.org or http://www.shaolin-world.net