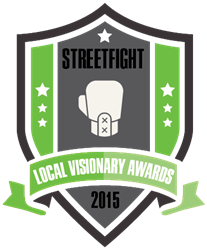 (PRWEB) October 20, 2015
Street Fight (http://streetfightmag.com), the leader in business-to-business media on the connected local economy, today announced the winners of its Local Visionary Awards, an eight-category competition designed to honor the very best campaigns, companies, ideas and individuals in local marketing and commerce. Awards were presented on stage at Street Fight Summit 2015 on October 20th in New York City.
The awards recognized achievement in several categories: Best New Product for SMBs, Best New Product for Enterprise Brands, Best Solution for SMBs, Best Solution for Enterprise Brands, Best Lead-Generation Campaign, Best Location-Based Campaign, Best Use of Data in Campaign Targeting, and Innovator of the Year. These categories point to benchmarks in the ongoing disruption taking place in the way local businesses connect with local consumers. Dozens of submissions were received.
"A disruption has been taking place in local marketing and commerce, with thousands of companies and individuals producing some very exciting, groundbreaking digital solutions that create new ways for local businesses to connect with local consumers," said Laura Rich, CEO of Street Fight. "We have been celebrating these developments since 2011, and we're thrilled to now specifically recognize some of the outstanding products and services in the marketplace."
The winners and finalists in the first Local Visionary Awards:
BEST NEW PRODUCT FOR SMBs

StyleBlueprint
Constant Contact (winner)
YP
BEST NEW PRODUCT FOR ENTERPRISE BRANDS

Local ID
Moasis
SIM Partners (winner)
BEST SOLUTION FOR SMBs

Alignable
Agendize
Sionic Mobile (winner)
BEST SOLUTION FOR ENTERPRISE BRANDS

Mobivity
SIM Partners
Yext (winner)
BEST LEAD-GENERATION CAMPAIGN

SIM Partners (winner)
Mobivity
Location3
BEST LOCATION-BASED CAMPAIGN

Placecast
Mobivity
Unacast (winner)
BEST USE OF DATA IN CAMPAIGN TARGETING

INNOVATOR OF THE YEAR

Anne Bezancon, Placecast
Chris Hendricks, McClatchy
Howard Lerman, Yext (winner)
Daniel Nissan, StructuredWeb
The winners other than Innovator of the Year were determined by a panel of judges, including David Card, Director of Research for Street Fight Insights; PagePart CEO Randy Parker; WPP's Gwen Morrison; and Closely CEO Perry Evans. Innovator of the Year was determined by popular vote.
For more information on the Local Visionary Awards, visit streetfightmag.com.
***
About Street Fight:
Street Fight is an integrated business-to-business media company focused on the business of hyperlocal marketing, commerce and technology. Street Fight publishes commentary, original research, case studies, and how-to articles, and hosts a series of live annual events to help the hyperlocal ecosystem achieve sustainable business models. To learn more, visit http://streetfightmag.com or contact us directly at info(at)streetfightmag(dot)com.