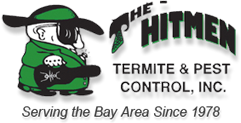 Our highly trained experts will thoroughly examine the home to identify any potential problems or damage related to an active termite infestation. They can also help homeowners with other pest control issues like bed bugs, ants, rodents, bees & more
Pleasanton, CA (PRWEB) October 18, 2015
Pleasanton termite control and Certified Orange Oil Specialists at Hitmen Termite and Pest Control Inc. are proud to announce doing over 100,000 termite inspections for homeowners and businesses in the Bay Area. They are one of the largest pest control companies in California and they are locally owned and operated. "We are very excited about being able to deliver the best quality service to our clients, which has enabled us to perform over 100,000 termite inspections since 1978," says John of Hitmen Termite and Pest Control, Inc. located in Pleasanton, CA.
Termite control companies in Pleasanton should be chosen carefully according to John at The Hitmen. He warns against hiring companies that are not locally owned because they may not be acclimated to the local community. "We have been in business since 1978. We live and work in the community and we have always been locally owned and operated. This means we have a high level of respect for the homeowners and business owners in the area and we understand things national companies don't."
Hitmen Termite and Pest Control Inc. is now offering a no cost termite inspection to homeowners in Pleasanton and all of the Bay Area. This offer applies only to homes that are not currently involved in a real estate transaction. One of the Pleasanton pest control experts from The Hitmen will be happy to help according to John. "Our highly trained experts will thoroughly examine the home to identify any potential problems or damage related to an active termite infestation. They can also help homeowners with other pest control issues like bed bugs, ants, rodents, bees, spiders or any other pest."
In addition to being termite control and elimination experts The Hitmen also handle most types of pest control services. They service the entire Bay Area and they have almost 100 service vehicles. This means that a pest control expert from The Hitmen is always close by. "We are Pleasanton pest control experts with a location in Pleasanton but we have service technicians based all over the Bay Area. We offer emergency service and we can have a highly trained expert give you a full inspection and provide service options to take care of the problems," says John. Hitmen Termite and Pest Control Inc. also has many 5 star reviews from satisfied customers on trusted consumer review sites like Yelp.
According to John, the Pleasanton exterminators at Hitmen Termite and Pest Control Inc. are particularly proud of this recent review, "We've been with Hitmen for several years, but recently needed critical extra help because of a large infestation of honey bees and large rats setting up nests. It was important to us to protect the bees and happily, Hitmen saved the bees and the combs, moving them to a rural bee farm. It was not an easy job but one done with great care and success. And, the overrun of rats was taken care of efficiently and successfully after a two-step exclusion. We are really pleased with Nick and the Hitmen team," says Doug H via his Yelp Review.
To learn more about Pleasanton pest control or to get a no cost residential termite inspection from one of the highly trained professionals at Hitmen Termite and Pest Control Inc. please call (925) 462-9910. To learn more about the company please visit their website or read their many positive online reviews from YP.com, Google, Angie's List or Yelp. People can also read their press releases or view their informative online videos to learn more. Please visit the website for pest control coupons and special offers.
Hitmen Termite and Pest Control Inc.
3958 Valley Ave
Suite F
Pleasanton, CA 94588
(925) 462-9910