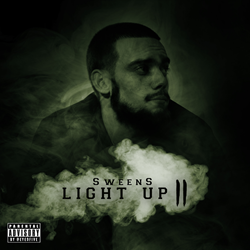 (PRWEB) October 27, 2015
East Coast-based rapper SweenS is proud to unveil his latest project "LighT uP II", a follow-up featuring new tracks and never-before-heard lyricism.
The 11-track album, produced by popular Atlanta production duo The Dope Boyz and recorded in the legendary Circle House Studios in Miami, features appearances by world renowned artists Futuristic, Jarren Benton, Meek Mill, Casey Veggies, Mike WiLL Made-It, Machine Gun Kelly, and The Game.
SweenS began his music career in 2011, a week after losing two of his best friends. SweenS now is adamant that music was what saved his life that year. His talent was evident from the start and his hunger for success was undeniable. By 2012, he moved to New York City to undergo a project with Rigo 'Riggs' Morales, the former Senior Director of A&R at Shady Records. Riggs saw the potential in SweenS and worked with him to further the development of his music career. He released his first project "Freshman Tale" and soon after went to work on his most notable project to date "Light Up," which quickly rose to fame on popular sites like Datpiff.com.
Recently, SweenS wrapped up his 30-city tour with Futuristic and Sam Lachow, performing each night to high-energy fans. The sold-out tour garnered national attention in cities like New York, Boston, Chicago, Cleveland, Portland, Denver, St. Louis, Salt Lake City and many more.
Now, with "LighT uP II" SweenS is thrilled to introduce himself to a higher level within the music scene. A creative mixture of Trap-frat rap, 420 odes, and pure lyricism, SweenS stands out among many talented artists, reviving the industry with a new form of creative flow.
"LighT uP II is the perfect example of blood, sweat, and tears that I was sick of holding back," SweenS says. "I decided to lay it all out there for all of you. Why hide it from the people who inspire my journey the most? Last but not least, Wherever you're at, LighT uP!"
"LighT uP II" is available on all digital retailers including iTunes, GooglePlay and Amazon, and soon to be available for streaming on Spotify and Pandora.
Track listing:
1. Light Up II Intro Ft. Meek Mill, Casey Veggies, Mike WiLL Made-It, Machine Gun Kelly, The Game
2. Legends
3. Hypocritical
4. Feel It
5. Hotel Remix Ft. Futuristic, Jarren Benton
6. Tour Stories
7. Ooh Yeah
8. Clear Your Mind
9. Half A Ticket
10. Princess Sierra
11. Herbal Treatment
For more information on SweenS, visit his web site http://www.SweenSmusic.com or visit his social media: Twitter: @SweenSmusic Instagram: @SweenSmusic.
For more information on Postal Records, a full-service marketing, distribution, artist development and management company visit postal-records.com or visit: Twitter: @PostalRecords