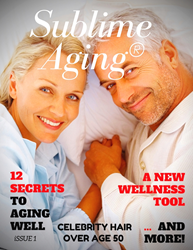 Sublime Aging Magazine has debuted. The focus is on aging well, gracefully and vibrantly. It is aimed at "baby boomers".
St. Petersburg, FL (PRWEB) October 20, 2015
A new magazine about aging well and gracefully has debuted. Sublime Aging® Magazine is now available online..
"There are plenty of beauty magazines, but they tend to talk to 20 to 39 year olds. There are not many magazines that focus on a wide range of issues from beauty to health and more for the 50+ age group and still remain interesting," says publisher and editor Kathy Heshelow. "I am a baby-boomer myself and wanted to serve an audience like me."
The first issue covers the following articles:
…12 Secrets to Vibrant Aging
…Health Benefits of Skin Brushing, A New Wellness Tool
…Best Celebrity Hairstyles for Age 50 and Above
…Could I Be Magnesium Deficient? Guest Article by Mark Denicola, courtesy Collective Evolution
…Can We Avoid Alzheimer's Disease?
…What Does Aging Skin Need?
"The subjects and magazine itself will expand and grow," says Heshelow. "Keep updated on the new website and join the list to be alerted to the next issue publication."
It is immediately available on Issuu, and will soon appear on Apple Newsstand.