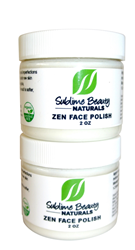 Certified Organic ZEN Face Polish Exfoliates Skin Beautifully.
St. Petersburg, FL (PRWEB) October 21, 2015
Sublime Beauty Naturals® has introduced a Certified Organic exfoliant, the ZEN Face Polish.
"The exciting new product not only exfoliates with organic ingredients, it infuses moisture back into the skin," says Kathy Heshelow, founder of Sublime Beauty Naturals®.
Most dermatologists agree that regular light exfoliate benefits skin health. "We wanted to be sure to add an effective product to the line for facial exfoliation," says Heshelow.
The ingredients include Organic Aloe, Silica (Bauxite) to exfoliate, Shea Butter, Avocado, Grape seed, Jojoba, Hemp, Coconut Oil, Vegan Stearic Acid, and Vitamin E.
The ZEN Face Polish is available on Amazon and on the Sublime Beauty Naturals webstore now.