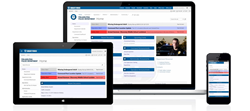 Public Safety Ventures believes SmartForce to be top emerging law enforcement technology.
Greenwood Village, Colorado (PRWEB) October 20, 2015
Adventos™ and Public Safety Ventures (PSV), announce today their new partnership to grow the Agency Management System market in the U.S. and worldwide.
Managing Partner for Public Safety Ventures, Stephen Meer commented, "Public safety agencies are in need of software that integrates multiple modern solutions into one, can be used on mobile devices, and is built upon CJIS compliant architecture. Because SmartForce™ does this and more, it makes a great addition to our investment portfolio and will be one of the top software solutions demanded for many years to come by government agencies charged with providing our safety."
The police software category leading Agency Management System from Adventos™ is called SmartForce™. SmartForce™ provides a suite of solutions that are nicely integrated into a single platform versus disparate solutions requiring multiple subscriptions and log-ins. The multiple solutions are designed specifically for law enforcement agencies to help them better collaborate on criminal intelligence, automate internal processes, and connect to their communities with more transparency.
Adventos CEO, Mariano Delle Donne views the new partnership with much excitement. "Having Public Safety Ventures as a strategic investor propels our growth since they bring much expertise in the public safety technology market. We share common beliefs in helping public safety agencies work more efficiently and effectively. The demands on public safety organizations continue to grow and we are excited to help these agencies using our software become even more effective at protecting citizens and building community trust."
For demonstrations of the SmartForce™ Agency Management System and the many police software applications designed to automate administrative processes, provide secure collaboration of criminal intelligence, and connect community organizations to law enforcement, please call or e-mail Cliff Micham at 252-378-1594, cliff.micham@adventos.com. Demonstrations can also be seen at the International Association of Chiefs of Police Annual Conference in Chicago, IL Otober 24-27 at booth #5023.