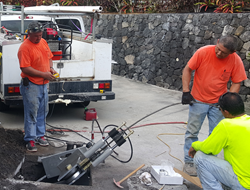 TRIC is great, you set up the pulley base at an angle to avoid underground utilities, and still pulls like a champ.
Alameda, CA (PRWEB) October 22, 2015
In September, 2015, Pipe Bursting manufacturer TRIC Tools sold its X20 system to Calvin's Plumbing exclusively for waterline replacement. TRIC field trainer Jose Moreno traveled to Kailua-Kona on the Big Island of Hawaii to train Calvin's on their initial waterline pipe bursting project. The homeowner's 1-1/4" diameter High Density Polyethylene (HDPE) water pipe was leaking under the driveway so Calvin's decided to replace the entire 65 feet via pipe bursting.
The standard TRIC waterline kit includes a splitting head designed to replace ¾" and 1" service lines made of copper and plastic. When Jose arrived onsite, he and his client determined that the splitting head provided was a bit too small for the job. After a few conversations with TRIC's Senior Trainer, John Rafferty, Jose directed Calvin's to have a local machine shop bore out the end of the 1" waterline splitting head—originally designed for use with 3/8" cable—to enable it to slip over the 5/8" cable in front of the 2" standard TRIC head pipe bursting. Thus the 1" splitting head acted as a pre-burster, first entering and opening the 1-1/4" pipe enough to allow the TRIC 2" head to follow behind. The 2" bursting head was outfitted with a 2" to 1-1/4" HDPE pipe reducer which allowed Jose and Calvin's to proceed without an issue replacing the pipeline. "The concern on the jobsite was if the 3/8" cable for the 1" head would break and if there would be enough annular space around the new pipe as the old pipe was split during the pipe replacement," commented Mr. Moreno. Often, if there isn't enough space surrounding the new pipe as it moves through the ground, the ground will put added drag on the cable and pipe. Since the 3/8" cable had only a 7 ton breaking strength, this was a concern on this particular upsize. The 5/8" cable used had a 23 ton breaking strength, providing a good safety factor for the 20 ton hydraulic puller. The other concern on the job was that there was an electrical conduit line near the water service line. Jose instructed Calvin's to set up the TRIC puller at an angle in order to prevent touching that line. "Our technology is great; you can set up the pulley base and plate at an angle to avoid other utility lines and it still pulls like a champ," said Moreno.
TRIC invented and patented the first Lateral Pipe Bursting System while simultaneously gaining national approval of HDPE pipe for its use, thus opening the market for trenchless home sewer replacement in America.
For more information about Trenchless Pipe Bursting equipment or the Trenchless Industry in general - please call 888-883-8742 or visit TRIC's website at http://www.trictrenchless.com to see how they can answer any of these questions for you. Get your Trenchless Sewer and Water Replacement service off on the right foot, one lateral at a time.