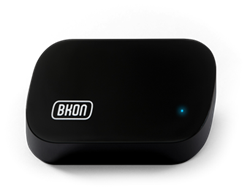 (PRWEB) October 21, 2015
BKON was featured on NewsWatch as part of its monthly Tech Report, which features the latest and coolest technology products available to consumers. Amanda Forstrom, a technology expert and special reporter for NewsWatch, conducted the review and shared with viewers how this device can be placed in any store to give shoppers access to more information.
The invention of the app was a revolutionary step forward in the technological world. It seems that there's an app for everything these days, from games to discounts at retail stores. But here's the problem - if someone wanted to take advantage of coupons and app-based discounts at every store, they would need hundreds of different apps on their phone. The solution is within the Physical Web, where developers can easily reference mobile sites in place of apps.
BKON is a Physical Web device that can be placed in any store - better yet any aisle in any store so that shoppers can access more information, or even coupons for that store or product. BKON works in conjunction with PHY.net, which is a cloud-based platform that lets shop owners cater deals and special information for their shoppers on-the-fly.
With a simple swipe, visitors see a list of nearby information, tap for more detail, save it for later or they can even send it to a friend. The BKON A1 goes for only $30 per device while the standard PHY.net service is free while other advanced features require pay.
To learn more, visit http://www.bkon.com today
About NewsWatch
NewsWatch is a weekly 30-minute consumer oriented television show that airs on the Discovery Channel and ION Network. NewsWatch regularly features top technology products and services, mobile applications for iOS, Android, and Windows devices, unique and beautiful travel destinations around the world, health and medical tips, and entertainment interviews on the show. NewsWatch airs on the Discovery Channel at 7:00 – 7:30 AM ET/PT.
NewsWatch is located in the greater Washington, DC area and has been on air for over 25 years. For more information or to watch the most recent episode, visit http://newswatchtv.com/tech-report.html.