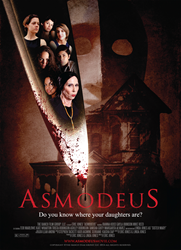 Los Angeles, CA (October 19, 2015 (PRWEB) October 20, 2015
Writer/Director Eric Jones and co-writer/producer Linda Jones have announced the worldwide digital release of their original screenplay Asmodeus, produced in collaboration with The Banco Film Group LLC. Asmodeus becomes available on the worldwide web this Monday October 19, 2015 in the film's official video-on-demand release.
40-year film industry veteran Eric Jones came out of retirement to produce and direct Asmodeus, an original screenplay he co-wrote with his partner Linda Jones. Asmodeus is a gritty and kitschy horror story underscored by the surprisingly strong performances and poignant between-the-lines messaging about recidivism, the penal and foster care systems, and many other issues that plague urban women.
The classic "spooky house" art design and the cleverly drab color palette work together to create a potently dreadful and errie feel that live in the world of Hitchcock-ian favorites.
"I wanted to make a stylized horror film with a cast of relative unknowns, using the familiar elements but also more than just blood and gore." - Eric Jones, Writer/Director
Co-writer/producer Linda Jones drew upon a decade of social work to inform the writing as they developed the surprisingly complex characters and meaningful story. Mrs. Jones also stars in the film as Sister Mary, alongside a strong cast that includes Joanna Koss (Donut Planet, Dabsity) and comedian Gayla Johnson (Don't Trust the B- in Apt 23, Fierce Funny Women).
"Asmodeus" was shot in Los Angeles through The Banco Film Group, LLC.
The film is now available for download via Asmodeusmovie.com and Amazon.com.
"Asmodeus" Credits
Production company:
The Banco Film Group LLC
Director: Eric Jones
Executive Producers: Jasmine Serrano, Kaisha Dap
Cinematographer: Leah Anova
Editor: Stephen Tackett
VFXEditor: Josh Tackett
Press Liaison: Mikael Boyd di Sandro
mikaelhussein(at)me(dot)com
Phone: 323-377-9035