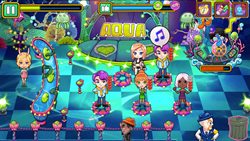 (PRWEB) October 20, 2015
"Jean's Club" is a time management game based on running a club, and is especially popular among 20 to 30-year-old gamers. The game received positive feedback when it was showcased at the 2015 Tokyo Indie Fest. "Jean's Club" was also invited to the 2015 Tokyo Game Show where it garnered positive reviews from industry people and gamers.
"Jean's Club" starts when former boutique business owner "Jean" hires you to manage his upcoming club business. Players will manage 5 clubs that Jean owns, and will finish tasks involving the nitty-gritty details of running a club such as: welcoming customers, hiring crewmembers, serving drinks, DJing, matching couples, cleaning, and removing customers who might be trouble. If the customers are satisfied, then they pay higher tips. With the money received from customers, players can hire bartenders and bouncers to keep the customers' satisfaction levels in check. If a customer's request is done in time, then his/her satisfaction level is increased. If customers don't receive what they want, their satisfaction levels decrease. Fully satisfied customers will pay bigger tips, but customers with 0 satisfaction will leave the club.
Players will have to move between the bar, dance stage, and DJ booth to complete many tasks. Different customers have different tastes, so they will order different drinks, and ask for different songs to be played. As the game progresses, the number of customers will increase, making it more difficult to satisfy all of them. Players can use "gold" to enhance player character's movement speed, pause time, and instantly increase customers' satisfaction levels. Gold can also upgrade bouncers' ability to weed out trouble customers.
By playing "Jean's Club", players can understand both the club owner and staff members' everyday lives. Watching your club grow bigger and brighter is one of the joys you can experience in the game. If you feel bored or a bit down, start playing "Jean's Club" and become the best manager in town!
"Jean's Club" is available from the Google Play store and Apple store for free.
Google Play download URL: https://play.google.com/store/apps/details?id=biz.afeel.jeansclub
Apple Store download URL: https://itunes.apple.com/app/jeans-club/id945975522?mt=8