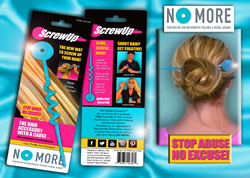 Carlsbad, California (PRWEB) October 19, 2015
October marks Domestic Violence Awareness Month, and one Carlsbad, California couple is teaming up with NO MORE to help put an end to this abuse once and for all. Their effort is all about raising awareness of domestic violence and sexual assault – and raising funds for donation, through their clever new product, called "ScrewUp™."
ScrewUp is a unique hair accessory that features the NO MORE symbol on its end. Its creator, Michelle Winder, a victim turned victor, is determined to, as she says, "STOP ABUSE – NO EXCUSE." Her inspiration led to the creation of this fun, stylish, and effective hair accessory.
"I designed ScrewUp because there was nothing out there to hold long, fine hair like mine – and my daughter's long thick hair always seemed to slip out of whatever she was using. Now with ScrewUp, which is essentially a stick with a coiled screw in the center, you can literally 'Screw Up' your hair! It works on thin, thick, straight, or curly hair." Winder smiles as she speaks, her enthusiasm more than evident, "Then I realized if we could put the NO MORE 'vanishing zero' on the end, we would have a useful product that was also a way to raise awareness – and funds – for ending domestic violence."
It's time to say NO MORE. The statistics about Domestic Violence are shocking, and widely unknown, because most people simply do not talk about it. That needs to change. Consider the following, according to the Department of Justice (Dept. of Justice 2015: http://www.statisticbrain.com/?s=domestic+violence+abuse)
and the FBI (FBI 2013: http://www.fbi.gov/stats-services/crimestats):

Four people are murdered by their partner every day in the US
24 people every minute are physically abused, raped or stalked by their partners
One rape occurs every 6.6 minutes
1 in 3 women and 1 in 4 men experience violence from their partners in their lifetimes
Michelle is a survivor of several assaults, and her story is both compelling and remarkable. Instead of letting a "victim mentality" take over her life, she decided to take control – and to empower others to do the same. Now, as a 3rd Degree Black Belt and Certified World Martial Arts instructor, she uses her skills to teach self-defense and personal safety to women of all ages. She is also a first responder with SART and DVRT, (Sexual Assault and Domestic Violence Response Team). Her husband Bill, a Navy veteran and gifted counselor, volunteers his time to mentor men who have been victims. Together they have created a ministry, dedicating their lives to healing victims of abuse.
The proceeds from ScrewUp will go to organizations that provide desperately needed, practical help directly to victims of domestic violence, sexual assault and sex trafficking.
Bill and Michelle have created a Kickstarter campaign, with the goal of raising $23,000. Please visit: https://www.kickstarter.com/projects/screwup/328048493?token=78c849cd.
Bill and Michelle hope to change the statistics, but they cannot do it alone. To learn more please visit http://www.screwupnow.com where you can find Michelle Winder's complete story and to purchase a ScrewUp.