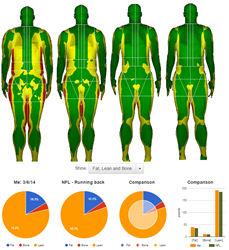 Los Angeles, CA (PRWEB) October 19, 2015
FitTrace announced the release of version 2.0 of its body composition app that provides the ability for users to compare their body composition with that of professional NFL players and rugby players.
Body composition is a core aspect of fitness. FitTrace has been breaking ground in this area for the past year. Its app leverages DXA-based body composition that captures the distribution of fat, lean and bone in the body. After receiving scans from DXA machines, FitTrace stores, tracks, and provides analysis to its users. With version 2.0, users can compare themselves with each other, groups, and professionals.
Training of athletes has increasingly become very sophisticated. Increasing performance, monitoring changes in nutrition, and training, all add to the complexity. The need for better identification of athletes has propagated to earlier in the athlete's life cycle to the high school level.
FitTrace currently supports DXA and will add other devices in the future. Dr. Jordan Moon, Chief Science Officer for FitTrace, says, "One of the best ways to observe the effects of diet and training is via body composition. DXA is used today in the NFL, NBA, and with Olympic teams. We are just beginning to see it spread to professional and college athletics".
There is a growing set of DXA operators across the U.S., who have signed on as FitTrace partners. The basic version of the app is available for free and allows users to store their body composition data in the app with basic reporting. A Premium version is offered as a yearly subscription of $60 per individual and provides for more advanced reporting, sharing, and now, comparison with others.
About FitTrace, Inc.
The FitTrace app is a new app for body composition. It allows users to understand their fitness better by using highly accurate technologies. Using the app, individuals can store, access and analyze their body composition information as well as observe trends over time.