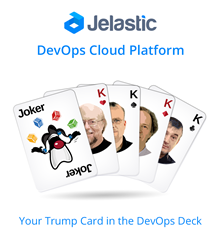 The Joker release brings flexibility and security for DevOps with Docker сontainers to the next level.
Palo Alto, Calif. (PRWEB) October 20, 2015
Jelastic, Inc., a leader in cloud container orchestration and DevOps workload mobility, today announced their latest release named Joker (Jelastic + Docker), to represent the company's latest innovations in Docker technology.
"After integration of Docker containers to the Jelastic we've got lots of positive feedback and kept on working to make this technology even more advanced within our cloud platform. The Joker release brings flexibility and security for DevOps with сontainers to the next level," Ruslan Synytsky, Jelastic CEO.
Docker has been integrated to Jelastic platform about a year ago. Since that time a set of enhancements was implemented to improve the performance and user experience. The enlarged number of available possibilities, let developer and system administrators tune their containers. Docker engine was also updated from 1.6.2 to 1.8, that gives Jelastic users the ability to work with Docker Registry 2.x repositories.
"We are proud to be a Jelastic partner, and especially excited about their enhanced support for Docker. Jelastic is built upon the Virtuozzo platform, whose combination of containers, hypervisors, and virtualized object storage is used in over one million production instances," said John Lawler, Sr. Director of Virtualization Product Marketing at Odin. "Jelastic's latest release further strengthens a highly scalable platform for easily building secure production solutions for service providers, enterprises, and DevOps."
Docker related improvements include, but not limited to

Horizontal Scaling for Docker Containers
One of the most significant features of this release is that Docker containers in Jelastic can now be scaled horizontally, as well as vertically.

UI Redesign for Better User Experience
The user interface for a Docker container orchestration has been redesigned to be even more intuitive.

Custom Domains for Docker
Added the ability to bind and swap custom domain names to Docker containers for users to update their project and test these changes with zero downtime deployment.

Support of Stateful Containers with Live Migration
Live migration allows to move stateful apps from one hardware region to another without downtime and with no need to restart and re-deploy containers.

Software Defined Storage for Containers
Improvements related to infrastructure fault tolerance allow to restore automatically Docker containers at their latest state in case of hardware fail.

Native Virtuozzo OS Template for Docker Containers
Better integration with Virtuozzo technology to improve security and isolation of Docker containers.

Pre-Installation Access to Docker Container Settings
Now a developer can browse, edit and apply any necessary changes of environment variables with no need to download the whole Docker image in advance.

Volumes are used to securely store the data out of the container, while different internal operations are performed such as redeploy of a container with another tag version.

Docker Container Redeployment
An existing Docker container can be easily updated to a new version with all previously defined settings. Multiple identical Docker containers can be re-deployed sequentially or in parallel.

Auto Redirect of Docker Application Port
Applications inside Docker containers can get the incoming requests via shared load balancing with no need in Public IP.
To view the full list of new features and improvements of Jelastic Joker 4.0 look through our Release Notes.
"Thanks to innovations in Jelastic Release 4.0, we are entering a new level of production-ready Docker Hosting. Our customers profit of an unmatched simplicity and scalability when managing their Docker Containers on our Swiss-based Cloud Platform.", says innofield co-founder Reto Giezendanner.
About Jelastic
Jelastic, Inc. is one of the first companies that introduced a new degree of freedom in the cloud with containerization for DevOps. Jelastic provides a turnkey Hybrid, Public and Private cloud platform that brings together enterprise PaaS and container-based IaaS. The platform provides certified containers for Java, PHP, Ruby, Node.js, Python and .NET and the ability to upload custom Docker containers. Jelastic offers agile deployment models, flexible scaling for stateless and stateful applications, collaboration and access control tools, billing and business analytics tools, while driving down TCO with high density and hardware utilization. Jelastic is a software company that enables cloud hosting service providers, systems integrators and enterprises to unleash the full potential of the cloud to generate superior ROI and efficiencies.
For more information visit us at http://www.jelastic.com, or follow us on Twitter at http://www.twitter.com/Jelastic, and Like Us on Facebook at http://www.facebook.com/jelastic