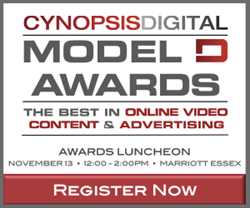 New York, NY (PRWEB) October 19, 2015
Cynopsis Digital has announced the finalists for its third annual Model D Awards program – honoring the best in online video content & advertising. This must-attend industry event will highlight the most outstanding digital campaign initiatives, technology and extraordinary video content in the highly competitive and ever-changing digital landscape.
This year, we have more than 100 companies as finalists in 40+ categories. A complete list can be found here: http://www.cynopsisdigitalawards.com.
Among the nominees are: Adobe, AMC Digital, AT&T, Inc., Bravo Digital Media, CBS Interactive, DEFY Media, Communications, E! Entertainment, EPIX, Fandango, Food Network, HBO, Hulu, Maker Studios, Mindshare Entertainment, NBCUniversal, Nickelodeon, REVOLT, Showtime Networks Inc., Syfy, Turner Sports, Twitter, Univision Communications Inc., USA Network, Viacom Velocity, WE tv, Yahoo and more.
The Cynopsis Digital Model D Award finalists will be recognized at a luncheon on November 13, 2015, from 12:00 p.m. – 2:00 p.m., at the Marriott Essex in Midtown Manhattan. For event registration information, click here. Winners and nominees will be featured in a special report of Cynopsis Digital to be distributed after the awards event and to more than 40,000 executives.
Cynopsis Digital is the daily must-read e-newsletter for professionals in TV and online video content creation, distribution, media buying and planning, ad sales, technology, research and marketing.
For questions about registration, contact Sarah Martinez at sarah(at)cynopsis(dot)com. For advertising or sponsorship information, contact VP of Sales and Marketing Mike Farina at mike(at)cynopsis(dot)com.
About Cynopsis Media:
Cynopsis Media is a division of Access Intelligence LLC. The Cynopsis Media family of products includes Cynopsis, Cynopsis Digital and Cynopsis Sports daily e-publications, weekly Cynopsis Jobs Advantage e-publication, Special eReports, Event/Summits and a strong database of Classifieds and more. Visit cynopsis.com.