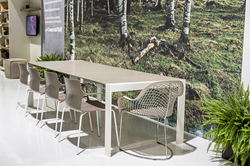 Resource Furniture, named Best in Show for Furniture by ASID Los Angeles at WestEdge Design Fair 2014, will once again unveil their latest offerings at the show
Los Angeles, CA (PRWEB) October 19, 2015
Resource Furniture, named Best in Show for Furniture by ASID Los Angeles at WestEdge Design Fair 2014, will once again unveil their latest offerings at the show. From October 22-25 at the Barker Hanger in Santa Monica, CA, WestEdge visitors will be the first to see the latest additions to the Resource Furniture collection of indoor and now outdoor furniture while experiencing stunning Norwegian landscapes through the Nature wallcovering collection.
Along with the Nature line of wallcoverings, new items to be unveiled include the Plurimo uniquely transforming table and Goliath Outdoor expanding dining table. In addition, Resource Furniture will showcase popular favorites like the LGM Tavolo wall bed system.

Nature is the latest wall covering line in the collection by photographers Tom Haga and Lena Johnsen, featuring high resolution images of dramatic Norwegian forest, mountain, farm and ocean scenes, on removable, PVC-free wallpaper made from sustainably managed forests. Just like ConcreteWall, the Nature collection is a single custom-printed image to create a true trompe l'oeil effect of spectacular size, as large as 15 x 24 feet without repeat.
Plurimo is a new concept in extension tables. It uniquely expands in both width and length with hidden extensions and self-storing leaves. Available in five sizes, the Plurimo table also comes in three heights: standard, counter and bar to suit any space.
Goliath Outdoor dining table is the first of its kind. Featuring powder-coated steel and aluminum-clad leaves, the Goliath Outdoor can expand from a slim console to a nine foot table suitable for a large dinner party.
In booth 523, Resource Furniture is available for press interviews during the WestEdge press preview day on Thursday, October 22 from 2-6 pm. Attendees can register and view the full schedule of events by visiting westedgedesignfair.com.
ABOUT RESOURCE FURNITURE
Resource Furniture is the original – and largest - source for cutting-edge, multi-functional living systems, offering the most inspired and innovative furniture solutions available in the world for more than 14 years. With showrooms in New York, Los Angeles, San Francisco, Toronto, Vancouver, Calgary, Montreal and Mexico City, Resource Furniture continues to define and revolutionize the industry by offering the most technologically innovative, space-saving and sustainable products in the world, all of which transform any space with both beauty and functionality. http://www.resourcefurniture.com
Press Contacts
Courtney Peterson
courtney(at)resourcefurniture(dot)com
323-655-0115
Laura Anderson
laura(at)resourcefurniture(dot)com
212-753-2039