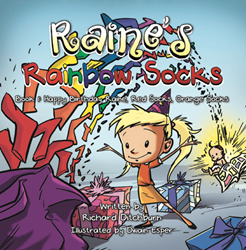 This book series can help show children the good in life and how helpful everyone can be
NEWCASTLE UPON TYNE, England (PRWEB) October 20, 2015
Teaching children to do the right thing can be a complicated job, especially when parents and children are faced with dealing with difficult issues.
Book one of a new children's series, "Raine's Rainbow Socks," focuses on the importance of speaking up and taking action when there is a problem. With Raine, the adventure-loving protagonist, the book takes young readers along as she uses her magic socks to solve mysteries and lend a hand to her family, all while demonstrating the real power of helpfulness.
Author Richard Ditchburn is familiar with the need for kindness and has always strived to be of assistance in his various jobs growing up in England. In an effort to give parents a way to discuss these important topics in a fun and engaging manner, Ditchburn created this series, incorporating components of time-travel, mysteries, comic books and adventure.
"It's my hope that this book series can help show children the good in life and how helpful everyone can be," Ditchburn said. "I want to teach children how to be brave and do the right thing."
Educational and exciting, "Raine's Rainbow Socks" explores kindness, helpfulness and bravery in an unexpected way.
For more information, visit http://www.rainesrainbowsocks.com.
"Raine's Rainbow Socks Book 1: Raine's Birthday, Red Socks, Orange Socks"
By Richard Ditchburn
ISBN: 978-1-50493-963-8
Available in softcover, e-book
Available on Amazon, Barnes & Noble and AuthorHouse
About the author
Richard Ditchburn was born in the village of Ryton in northeast England, and he still lives there today. Ditchburn is the manager of a local betting shop, where part of his duties focus on protecting others from the dangers of gambling.
# # #