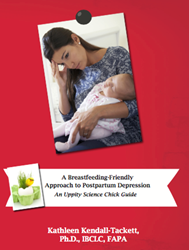 A Breastfeeding-Friendly Approach to Postpartum Depression combines recent scientific research with practical suggestions to help health care providers assist in women's recovery from depression while honoring and supporting the breastfeeding relationship
Amarillo, Texas (PRWEB) October 22, 2015
October is nationally recognized as Depression Awareness Month. Promoting excellence in women's health is central to the mission of Praeclarus Press. In providing books, webinars and more with current research, Praeclarus Press serves to educate, inform and create awareness.
Many of the titles in the Praeclarus Press library focus on women's health as it relates to motherhood, birth, and breastfeeding. One of the most important topics for women of childbearing age is postpartum depression. Editor-in-Chief and founder of the press, Kathleen Kendall-Tackett, is a leading health psychologist and researcher in the field of Maternal-Infant health with an extensive academic background making her a leading voice in the the field. Dr. Kendall-Tackett is at the forefront of emerging discussions relating the intersection of maternal health and childbirth, breastfeeding, postpartum depression, and trauma. Praeclarus Press is dedicated to raising awareness for women's mental health and families affected by depression.
Please visit the website to learn more about our books on depression: A Breastfeeding-Friendly Approach to Postpartum Depression by Kathleen Kendall-Tackett, PhD, IBCLC, FAPA; Perfect Mothers Get Depressed by Kimberly D. Thompson, PhD; Transformed by Postpartum Depression by Walker Karraa, PhD. Other books that address depression include: A Mother's Climb Out of Darkness by Jennifer Hentz Moyer; The Virtual Breastfeeding Culture by Lara Audelo; Somebody Stole My Iron by Vicki Tapia.
In addition to books, webinars on mental health and depression are also regularly produced and can be accessed when they are recorded live, or purchased after the recording. Depression Is Black! by Jessica Walker. Through October 31st, please enjoy this webinar at no charge. Use code DIB2015 when you check out of the Praeclarus Press webstore.
Praeclarus Press is a small press that specializes in women's health founded by health psychologist Kathleen Kendall-Tackett, PhD, IBCLC, FAPA. It features books, webinars, and products that support women's health throughout their lifespan. Based in Amarillo, Texas, the mission of Praeclarus Press is to produce materials that change women's lives.