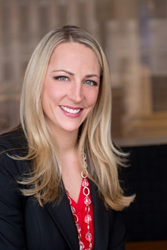 I grew-up in Lake County and it is rewarding to be able to help reach justice for injured families in this community
Waukegan, Illinois (PRWEB) October 20, 2015
Salvi, Schostok & Pritchard P.C. is proud to announce Tara R. Devine is a recipient of the Lake County Journal's 2015 Women of Distinction Award. The Women of Distinction Award identifies women who have made a difference in Lake County and who are representative role models as leaders in their fields and community.
Tara Devine will receive this award, along with nine other women, at the 2015 Lake County Journal's Women of Distinction Awards Luncheon on October 22, 2015 at the DoubleTree by Hilton in Mundelein. Registration starts at 11am, the lunch begins at 11:30am. The award ceremony will provide honorees with an opportunity to share their stories. The honorees will also be profiled in the Lake County Magazine October issue.
As a trial lawyer at Salvi, Schostok & Pritchard P.C. in Waukegan, Illinois, Ms. Devine spends her days fighting for justice for her clients, which includes families and children. She concentrates her practice of law in the areas of personal injury, nursing home negligence, wrongful death, medical malpractice, and product liability cases. Ms. Devine started her career with Salvi, Schostok & Pritchard as a law clerk in 2004 and was named partner in 2011. She grew up in Libertyville and has returned to the community to set down roots with her husband and their two young children.
"I am honored to be part of a group of so many outstanding women," said Tara Devine. "I grew-up in Lake County and it is rewarding to be able to help reach justice for injured families in this community."
During her time with the law firm, Tara Devine has secured more than $20 million in verdicts and settlement on behalf of her clients. Ms. Devine received her Juris Doctorate in 2003 from Marquette University and her Bachelor of Arts degree in 2000 from the University of Illinois. She is also a 1996 graduate of Libertyville High School.
About Salvi, Schostok & Pritchard P.C.
Salvi, Schostok & Pritchard P.C. is a leading Chicago personal injury firm with offices in Chicago (22 West Washington Street, Suite 1600, Chicago IL 60602) and Waukegan (218 North Martin Luther King Jr. Avenue, Waukegan, IL 60085). In addition to representing clients in catastrophic personal injury, medical malpractice, aviation and product liability cases, the firm focuses on car and truck accidents, airplane and train accidents, construction injuries, birth injuries, brain injuries, unsafe properties and animal attacks. The firm has obtained more than $975 million on behalf of its clients in personal injury and wrongful death cases, including 210 verdicts and settlements of $1 million or more.