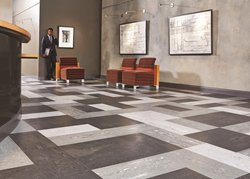 Chagrin Falls, Ohio (PRWEB) October 19, 2015
Inspired by the rich, organic look of natural wood and stone, Tarkett, the worldwide leader in innovative and sustainable flooring and sports surface solutions, introduces the new Johnsonite Minerality™ Wood/Stone Rubber Tile and Plank. Available in both tile and plank format, versatile Minerality combines an understated, classy sophistication with the performance luxuries of a rubber flooring solution.
Minerality's designs are inspired by the natural grain of wood and stone materials, bringing linear and striated visuals to rubber tiles and planks. The new designs bring a uniqueness and luxury to each individual tile and plank and help to serve as a focal point or coordinated shade for any interior design concept. These sophisticated looks are ideal for healthcare, retail and corporate where the benefits of rubber flooring are desired and where real stone and wood flooring is impractical and cost prohibitive.
In line with the singularity of natural stone and wood, no two patterns are exactly alike. Blending the look of organic materials and their natural colorways with the practical characteristics of resilient rubber flooring gives Minerality its unique appearance, and is the only look of this type in rubber tile on the market today. Additionally, Minerality Grains wood planks' 6" x 48" size is unique to the industry. And Minerality Strata tiles look like real 12" x 24" stone inlays. Custom sizes are available in both.
These sophisticated looks also provide slip resistance, shock-absorbing qualities and natural acoustic properties, making Minerality rubber flooring options ideal for the hospitality and corporate market segments.
Combining the superior durability and low maintenance requirements of the rubber tiles and planks, Minerality delivers reduced costs and a long life cycle.
Keeping with Tarkett's commitment to circular or "closed-loop" design, Minerality is made in the USA in an ISO 9001 and ISO 14001 certified plant, assuring quality and a positive environmental impact. The product has received Cradle to Cradle® Bronze level status, is FloorScore® certified as well as phthalate free, contributing to good indoor air quality. Made from rubber, Minerality is also recyclable.
For more information on Johnsonite's comprehensive range of commercial flooring solutions, finishing borders and accessories, visit http://www.tarkettna.com.
About Tarkett
Tarkett is a global leader in innovative and sustainable solutions for flooring and sports surfaces. Offering a wide range of products including vinyl, linoleum, carpet, rubber, wood & laminate, synthetic turf and athletic tracks, the Group serves customers in more than 100 countries worldwide. With 12,000 employees and 34 industrial sites, Tarkett sells 1.3 million square meters of flooring every day, for hospitals, schools, housing, hotels, offices, stores and sports fields. Committed to sustainable development, the Group has implemented an eco-innovation strategy and promotes circular economy. Tarkett's net sales of 2.4 billion euros in 2014 are balanced between Europe, North America and the region comprising CIS countries, APAC & LATAM. Tarkett is listed on Euronext Paris (compartment A, ticker TKTT, ISIN: FR0004188670). http://www.tarkett.com.