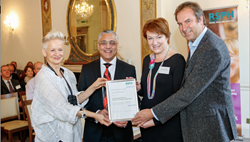 Jim McManus, Director of Public Health in Hertfordshire says: "Our online pilot programme with Do Something Different shows that people with long-term conditions move out of clinical levels of depression at a fraction of the cost of face-to-face care."
Brighton, East Sussex (PRWEB UK) 22 October 2015
Do Something Different behaviour change programmes developed for Hertfordshire Public Health have won a Health and Well-being Award from the Royal Society for Public Health (RSPH).
The Award has been given to Do Something Different for its "innovative and creative approach to supporting behaviour change of individuals in Hertfordshire".
These online programmes piloted in 2014/15 and further developed this year, provide individually tailored programmes to help residents to improve healthy living, healthy weight and happiness, and to reduce stress.
Accessible and Scalable.
In making the award, the RSPH were particularly impressed with the way that the Do Something Different platform takes Public Health out to a wider audience.
The RSPH says: "The organisation's digital platform is accessible and scalable with the potential for reaching large groups of people. Its interventions are underpinned by research and good practice in technology."
Great potential for Public Health.
Jim McManus, Director of Public Health in Hertfordshire, is delighted that the Do Something Different approach has been recognised by the RSPH.
Jim McManus says: "Our online pilot programme with Do Something Different shows that people with long-term conditions move out of clinical levels of depression at a fraction of the cost of face-to-face care."
Real shifts in behaviour.
Research at the end of the programme, which included almost 1,000 Hertfordshire residents, showed:

Subjective wellbeing up by 21%
Anxiety and depression down significantly, with more than 50% in the 'clinical' category moving to lower levels
Physical activity up by 37%
Alcohol consumption down by 20%
Fruit and vegetable consumption up by 29%
Weight down by an average of 5.8 lbs in six weeks
50% of people visited Herts amenities
The most advanced behaviour change platform.
Professor Karen Pine, founding psychologist at Do Something Different, says."Do Something Different is the culmination of years of psychological research combined with the very latest digital technology. We believe Do Something Different is the most advanced behaviour change platform in the world."
Good practice in Public Health.
Shirley Cramer, CEO of RSPH, said: "The RSPH has a long history of promoting good practice in public health and we are proud of our Health and Wellbeing Awards which provide a stage to celebrate the great work of organisation's across the country regardless of their sector, size and setting. It was an extremely competitive field this year and I would like to congratulate our 2015 winners who are all exemplars of innovative, progressive programmes to improve the health and wellbeing of individuals and communities. I hope that their effective programmes will be adopted and celebrated elsewhere."